Community groups to bring 2,000 empty homes back to life with government help
Community groups across the UK will be supported by government cash to bring almost 2,000 empty homes back into use, Communities Minister Andrew…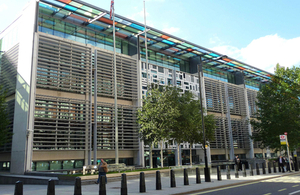 Community groups across the UK will be supported by government cash to bring almost 2,000 empty homes back into use, Communities Minister Andrew Stunell announced today.
Mr Stunell announced the winners sharing £25.1million of government funding on a visit to one of the successful projects in Newark, Nottinghamshire alongside Independent Empty Homes Adviser and TV presenter George Clarke.
Newark and Sherwood Homes Ltd successfully applied for a £50,000 grant to purchase and bring four empty properties back into use from the Empty Homes Community Fund. These will be a mix of 2-3 bedroom houses and bungalows that will provide affordable housing for 20 people. Mr Stunell also visited Newark and Sherwood Federation of Tenants and Residents Associations to find out first hand how they have been involved in these projects.
In addition to the scheme in Newark, other successful projects include:
A homesteading scheme in Stoke to refurbish terraced housing;
A scheme in Leeds to work with homeless people and volunteers to bring homes back into use;
A scheme led by Southwark Habitat for Humanity to bring homes back into use across London;
Seven schemes from YMCAs to return properties to use; and
Renovated properties to provide accommodation for women at risk of domestic violence.
In many areas the expertise for returning empty homes to use lies with community groups or voluntary organisations, and that is why the Government is supporting innovative schemes around the country that will allow groups to make a real difference where in the past they have often struggled to be involved or raise finance. £25.1million has been allocated so far out of a total of £30million, with a further 20 organisations bidding for the remainder of the cash.
Communities Minister Andrew Stunell said:
It's great to see for myself the work being carried out to transform empty properties into safe family homes.

Empty properties are a national disgrace - they attract crime and are a shocking waste of housing when millions of families need a home.

I'm determined to tackle this problem, and that's why the Coalition is helping local groups breathe new life into their communities.
Independent Empty Homes Advisor George Clarke said:
It is so refreshing to meet people like those in Newark who are dedicated to bringing empty homes back into use. We need to find more creative and innovative ways to refurbish and remodel the many thousands of perfectly sound properties currently standing empty all over the UK. Newark is making positive strides in the right direction. However, the problem of empty homes and the demolition of perfectly good homes is a national problem and it is my job to ensure that more and more people recognise the value of refurbishment and that money is spent in the right way to stop these homes going to waste.
Notes to editors
A table of the initial successful schemes can be found here: www.communities.gov.uk/documents/newsroom/1786823/2176856.xls.

A full list will be published on the Tribal website once all due diligence checks are completed. See www.tribalgroup.com (external link).

George Clarke was appointed in April 2012 to advise the Government on how to bring empty homes back into use and to help raise public awareness of the issue.
Images
Published 10 July 2012