Communities to receive cash boost for choosing development
Planning Minister Nick Boles announces new cash incentives.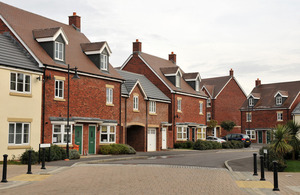 Communities that tackle the legacy of inadequate house-building and choose to accept new housing will benefit directly from new generous cash incentives.
Neighbourhoods that take a proactive approach by drawing up a neighbourhood development plan, and securing the consent of local people in a referendum, will receive 25% of the revenues from the Community Infrastructure Levy arising from the development that they choose to accept.
This cash boost will be paid directly to parish and town councils and can be used to back the community's priorities for example to re-roof a village hall, refurbish a municipal pool or take over a community pub. Neighbourhoods without a neighbourhood development plan but where the levy is still charged will still receive a capped 15% share of the levy revenue arising from development in their area.
Communities without a parish or town council will still benefit from this incentive, with the local planning authority retaining it and spending it in accordance with the wishes of the community.
Instead of hectoring people and forcing development on communities, the government believes that we need to persuade communities that development is in everyone's interest. Incentives are key to getting the homes built that we both need for today and for future generations.
It is vital this country increases the number of homes it builds to meet the needs of its increasing population. The failure of previous administrations to build enough homes, latterly despite the credit boom, led to a severe housing shortage that has been made worse by the rapid increase in the number of households. The number of people living alone has rocketed, and immigration has led to an influx of 1.7 million people into England in the last decade.
In a bid to tackle this housing shortage and make best use of what we already have the government has invested £160 million to deal with the 250,000 homes empty for more than 6 months - 50,000 fewer then in 2009. This money combined with a share of £300 million announced in September's housing growth package, will help put more than 15,000 empty homes back into use by 2015.
The government has also made clear that planning should encourage the effective use of land, including brownfield land that is not of high environmental value. The majority of all new homes - 76% of those completed in 2010 - were built on brownfield land. But this will not be enough and some undeveloped land will need to be made available for house-building.
Nick Boles said:
"We have a simple choice.
"We can decide to ignore the misery of young families forced to grow up in tiny flats with no outside space. We can pass by on the other side while working men and women in their twenties and thirties have to live with their parents or share bedrooms with friends. We can shrug our shoulders as home ownership reverts to what it was in the 19th century: a privilege, the exclusive preserve of people with large incomes or wealthy parents.
"Or we can accept that we are going to have to build on previously undeveloped land and resolve that we will make these decisions locally and build beautiful places like we used to.
"This government is determined to persuade communities to accept more house-building by giving them a tangible share of the benefits it brings. By undertaking a neighbourhood plan that makes space for new development, communities can secure revenues to make the community more attractive for everyone."
Further information
Neighbourhood planning is an important way to make sure that development has the backing of the community. It is right that the areas that have organised themselves to bring forward a neighbourhood plan and have taken the plan through all the stages of the neighbourhood planning (including a successful examination and referendum) should be rewarded for their positive, pro-active approach to delivering growth. This is why they are entitled to an extra 10% of the levy arising from development in their area.

The Community Infrastructure Levy amount passed to neighbourhoods reflects the rates the local planning authority set for the levy. These charge a rate or different rates for development in the local area in pounds per square metre. The neighbourhood funding element will be calculated based on the levy receipts from the relevant development.

The levy's charges will become due from the date that a chargeable development is commenced. The neighbourhood funding element will be passed to parish or community councils in accordance with a timetable agreed between the local planning authority and the local council.

Where the money is transferred to a parish council (in England) or a community council (in Wales) they will decide how the money will be spent - although they will be expected to work with the local planning authority. Where the money stays with the local planning authority (in areas without a parish or community council) the local planning authority will engage with the communities where the development has happened to agree how best to spend this money.

In areas that have not been subject to neighbourhood planning there will be a cap of £100 per council tax dwelling on the neighbourhood funds.

We aim to have these incentives in place from Spring 2013.

We previously consulted on allowing councils the choice whether to spend their levy receipts on affordable housing but given other ongoing policies to support housing, we are not proposing to make this change at the present time.

We are also going to enable a mayoral development corporation to impose a Community Infrastructure Levy charge.
Published 10 January 2013