Press release
CMA sets out case against water tank firms
The CMA has issued a statement of objections to 5 galvanised steel tank suppliers accused of breaking competition law.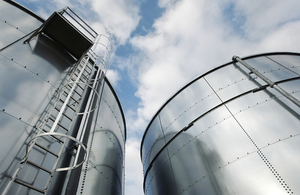 Galvanised steel tanks are used for water storage in larger buildings, such as schools, hospitals and other commercial and public buildings, and supply the water used in fire sprinkler systems.
Previously, in a settlement announced in March 2016, 3 of the 5 suppliers - Franklin Hodge Industries Ltd, Galglass Ltd and KW Supplies Ltd (as economic successor to Kondea Water Supplies Ltd) - admitted to having agreed with each other, and with a fourth supplier, CST Industries (UK) Ltd, to share the market between them, to fix prices and to rig bids for contracts between 2005 and 2012. The aim of these actions was to improve profit margins on the tanks by avoiding customers being able to 'play' the competitors off against each other. These companies have agreed to pay fines totalling more than £2.6 million.
CST Industries (UK) Ltd, which brought these arrangements to the authorities' attention, will, as a result, benefit from immunity from fines under the Competition and Markets Authority's (CMA) leniency policy, provided that it continues to co-operate and complies with the other conditions of the CMA's leniency policy.
In a separate allegation, the CMA has also provisionally concluded that some of the suppliers exchanged competitively-sensitive pricing information at (or shortly after) a meeting in July 2012. This concerned 3 of the suppliers involved in the main cartel arrangement who admitted this conduct as part of the settlement announced in March (Franklin Hodge Industries Ltd, Galglass Ltd and KW Supplies Ltd), plus another supplier, Balmoral Tanks Ltd.
Stephen Blake, Senior Director of the CMA's Cartels and Criminal Group, said:
Strong competition between businesses has clear benefits for customers, who benefit from lower prices, better quality and more choice. Any weakening of competition that maintains or increases prices will ultimately be at the expense of consumers or tax payers.

In March, we announced a settlement with the participants in the main cartel and the issue of today's statement represents the next stage in the process.

The information exchange allegation against the non-settling party, Balmoral, will be considered by a new case decision group, which will hear any representations Balmoral may wish to make. No conclusion should be drawn that Balmoral has infringed competition law pending the outcome of that process.

Any company that is approached to join a cartel or other anti-competitive conduct or arrangement should immediately and unequivocally reject the approach and avoid participation in any discussions that may involve the sharing of confidential and competitively sensitive pricing information.
For more information see the case page.
The CMA has produced a range of guidance to help businesses understand more about competition law including an at-a-glance guide and a series of animated videos that explain what anti-competitive behaviour looks like.
Notes for editors
The Competition Act 1998 prohibits agreements, practices and conduct that may have a damaging effect on competition in the UK. The Chapter I prohibition covers anti-competitive agreements and concerted practices between businesses which have as their object or effect the prevention, restriction or distortion of competition within the UK. Article 101 of the Treaty on the Functioning of the European Union (TFEU), covers equivalent agreements or practices which may affect trade between EU Member States. Any business found to have infringed the prohibitions in the Competition Act 1998 or the TFEU can be fined up to 10% of its annual worldwide group turnover.
The statement of objections is addressed to the following parties, which the CMA provisionally considers were directly involved in one or both of the alleged infringements and/or are liable as parent companies or successor undertaking of the undertakings directly involved:

CST Industries (UK) Limited and its parent CST Industries Inc.,
Franklin Hodge Industries Limited and its parent Carter Thermal Industries Limited,
Galglass Limited, in liquidation, and its parents Kernoff Limited and Irish Industrial Tanks Limited,
KW Supplies Limited, as successor undertaking to Kondea Water Supplies Limited, and
Balmoral Tanks Limited and its parent Balmoral Group Holdings Limited (information exchange allegation only).

A statement of objections gives parties notice of a proposed infringement decision under the Competition Act 1998 and/or Article 101 of the TFEU. It is a provisional decision only and does not necessarily lead to an infringement decision. Parties have the opportunity to make written and oral representations on the matters covered. Any such representations will be considered by the CMA before any final decision is made. The final decision in relation to the alleged exchange of information will be taken by a three-member case decision group, which is separate from the case investigation team and was not involved in the decision to issue the statement of objections. The final decision in relation to the main cartel infringement, which has been admitted by all the parties to that infringement, will be taken by the Senior Responsible Officer, as part of the streamlined administrative process agreed as part of settlement.
Provided it continues to co-operate and complies with the other conditions of the CMA's leniency policy, CST Industries (UK) Ltd, together with its parent company, CST Industries Inc, will not receive a fine, having reported the cartel to the CMA's predecessor and co-operated with the investigation, in accordance with the CMA's leniency policy. Franklin Hodge also received a discount under the leniency policy for co-operating with the investigation.
The CMA also conducted a related criminal investigation into whether individuals had committed an offence under section 188 of the Enterprise Act 2002, the criminal cartel offence. These proceedings have now concluded, with one conviction following a guilty plea and two acquittals following a trial by jury.
Anyone who has information about a cartel is encouraged to call the CMA cartels hotline on 020 3738 6888 or email cartelshotline@cma.gsi.gov.uk.
Under the CMA's leniency policy a business that has been involved in a cartel may be granted immunity from penalties or a significant reduction in penalty in return for reporting cartel activity and assisting the CMA with its investigation. Individuals involved in cartel activity may also be granted immunity from criminal prosecution for the cartel offence under the Enterprise Act 2002. The CMA also operates a rewards policy under which it may pay a financial reward of up to £100,000 in return for information which helps it to identify and take action against illegal cartels. For more information on the CMA's leniency and informant reward policies, go to leniency and rewards.
For more information on how to achieve compliance with competition law, go to compliance.
The CMA currently has 13 Competition Act investigations open.
For more information on the CMA see our homepage or follow us on Twitter @CMAgovuk, Flickr and LinkedIn.
Enquiries should be directed to Rory Taylor (rory.taylor@cma.gsi.gov.uk, 020 3738 6798).
Published 26 May 2016