News story
CMA seeks permission to appeal in Eurotunnel case
The CMA today announced that it will seek permission to appeal following last week's Court of Appeal judgment in the Eurotunnel case.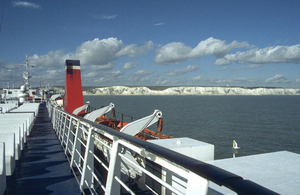 The judgment upheld a challenge to the Competition and Markets Authority's (CMA) jurisdiction over Eurotunnel's acquisition of 3 ferries and related assets formerly owned by SeaFrance.
The application will be made to the Court of Appeal although if granted the appeal itself would be heard in the Supreme Court.
The CMA will also request that the Court of Appeal suspends the effect of its current order so that Eurotunnel will no longer be barred from running the MyFerryLink service out of Dover from July.
The CMA is concerned to protect the interests of passengers and freight customers given its conclusion that Eurotunnel running a ferry service on the short sea route as well as the competing rail link would damage competition. The CMA's competition assessment was not challenged in the Court of Appeal or in the previous Competition Appeal Tribunal (CAT) appeal.
In seeking permission to appeal, the CMA is also seeking greater legal clarity for the wider benefit of the UK merger regime.
The CMA also took into consideration that its decision on jurisdiction had previously been upheld by the CAT and was supported by one of the judges on the Court of Appeal panel.
Last week, by a 2 to 1 majority decision, the Court of Appeal upheld an appeal by the SCOP (Société Coopérative de Production de SeaFrance S.A.), the workers' collective operating the MyFerryLink service on behalf of its owner Eurotunnel. The SCOP had argued that when, in 2012, the companies acquired the 3 ferries and related assets of the former SeaFrance operation (now liquidated) and recommenced a ferry service on the Dover–Calais route under the MyFerryLink brand, this should not be treated as a merger under the UK merger control rules.
For all information relating to this case please visit the case page.
Published 19 May 2015