News story
CMA welcomes judgment in Eurotunnel case
The CMA has welcomed today's judgment by the Competition Appeal Tribunal (CAT) to uphold the CMA's decision to bar Eurotunnel from running its MyFerryLink service out of Dover, to safeguard competition.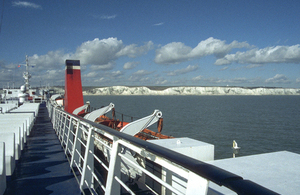 The CAT's judgment dismissed an appeal by Eurotunnel and Société Coopérative de Production de SeaFrance S.A. (the SCOP) against the CMA's remittal decision made in June last year. That decision found that the CMA did have jurisdiction to review the acquisition of the former SeaFrance assets by Eurotunnel and there had been no change of circumstances or special reason leading it to change the original decision made in June 2013.
The CMA imposed an order on Eurotunnel on 18 September 2014 but suspended some of its provisions while the Eurotunnel case was under way. The order specified that in 6 months' time Eurotunnel should:
cease operating ferry services at the port of Dover with the Berlioz and the Rodin vessels for a period of 10 years, and
cease operating ferry services at the Port of Dover with any vessel for a period of 2 years.
Alternatively, Eurotunnel would be permitted to sell MyFerryLink to a suitable purchaser.
Alasdair Smith, Chair of the Eurotunnel Inquiry Group, said:
Our first priority remains to protect the interests of passengers and freight customers. With 2 of the operators on the Dover-Calais route making substantial losses, it remains our view that the current level of competition on the route is unsustainable and likely to lead to the exit of a competitor.

Having one of only 2 ferry operators owned by the competing rail link would be bad for customers. It would be much better for passengers and freight customers to have 3 competing cross-Channel operators - with Eurotunnel running the rail link and 2 independent operators on the ferry route.

The order would stop MyFerryLink running services out of Dover while it is owned by Eurotunnel but we would not prevent Eurotunnel from finding a suitable purchaser that was completely independent of Eurotunnel to operate the ferry service.

We are conscious of the potential effect of our decision on the jobs of the MyFerryLink workers. However, there will also be job losses if MyFerryLink remains on the route and another operator leaves.
More information about this case can be found on the case page.
Published 9 January 2015