News story
CMA refers pharmacy merger for in-depth investigation
The CMA has referred Celesio's anticipated acquisition of Sainsbury's pharmacy business for a phase 2 investigation.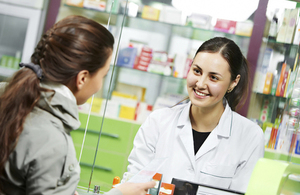 Earlier this month, the Competition and Markets Authority (CMA) said that it would refer the merger for an in-depth investigation unless Celesio offered acceptable undertakings to address the CMA's competition concerns.
The CMA's initial investigation identified 78 local areas where customers may be affected by a loss of competition between Lloyds Pharmacy (a Celesio subsidiary) and Sainsbury's pharmacies. The CMA also indicated that in other local areas it had been unable to reach a positive conclusion on whether the merger gives rise to a realistic prospect of a substantial lessening of competition.
Celesio has not offered any undertakings in lieu and the CMA will therefore now refer the merger.
A decision on the merger will be made by a group of independent panel members supported by a case team of CMA staff. The deadline for the final report will be 13 June 2016.
Details of the CMA's decision will be available on the case page in due course.
Published 29 December 2015