News story
CMA puts vulnerable consumers at the heart of its annual plan
The CMA has set out plans to protect vulnerable people and make sure that markets can be trusted in its 2018 to 2019 Annual Plan.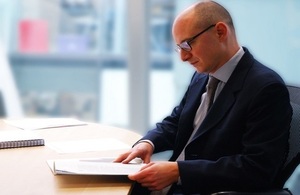 The plan, which follows a period of consultation, builds on existing work in areas such as online hotel booking, secondary ticketing and care homes, as well as ambitious enforcement cases in markets such as online gambling and the supply of essential medicines to the NHS.
The CMA will also make sure it keeps pace with digital advances to protect people from illegal and unfair online practices by expanding its digital analysis capabilities and establishing a new Digital, Data and Technology team. This will ensure that it can respond rapidly to developments including the use of algorithms and artificial intelligence to illegally fix prices or distort how markets work.
As it looks ahead to the UK's exit from the EU, the plan sets out that the CMA is preparing for an increased role in the review of UK aspects of global mergers and international competition enforcement investigations. This includes significantly expanding its capacity and playing an even bigger role on the world stage. The CMA will also increase its presence and capabilities outside London by opening a new, expanded Edinburgh office, ensuring that it is keeping in closer touch with markets and consumer issues in Scotland.
Andrea Coscelli, CMA Chief Executive, said:
Competition gives shoppers more choice and the power to demand a better deal. It stimulates innovation and ensures businesses make better use of their resources.

Over the past 12 months, CMA has continued to demonstrate its commitment to promoting competition and protecting consumers' rights, in particular for the most vulnerable, and making sure they get a fair deal from businesses.

We look ahead to a period of opportunity and transformation, for the CMA and the competition and consumer regimes. We will build on our achievements and focus on becoming increasingly effective and efficient, and achieving even greater impact for consumers across the UK.
The CMA enters 2018/19 with a substantial volume of ongoing work and is currently running 15 competition enforcement cases, five consumer enforcement cases, 15 merger investigations, a market study and a market investigation.
For more information, read our 2018/19 Annual Plan.
Published 29 March 2018