News story
CMA looks in detail at office space merger remedy
Regus has proposed a remedy to address competition concerns in relation to its completed acquisition of Avanta.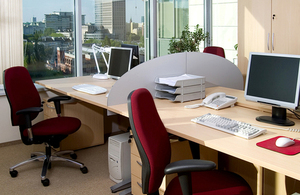 Last month the Competition and Markets Authority (CMA) announced that it would refer the acquisition for an in-depth investigation unless Regus plc (Regus) offered acceptable undertakings to address its concerns.
Regus and Avanta Serviced Office Group plc (Avanta) both supply serviced office space in central London and Reading. Serviced offices provide centrally managed, fitted and furnished space for businesses to occupy on a ready-to-go basis.
The CMA had said that the acquisition could lead to higher prices and/or a reduction in choice and quality for customers of serviced office space in the Hammersmith, Victoria, Canary Wharf/Docklands, Euston/King's Cross and Paddington areas of central London.
As a result, Regus has offered to sell the Avanta centres located in the areas concerned to a suitable purchaser (or purchasers). Regus has also offered a behavioural undertaking in relation to the Hammersmith centre, in the event that the landlord decides to terminate Avanta's lease early and a suitable buyer therefore cannot be found for that centre. The behavioural undertaking would limit Regus' ability to raise prices or reduce quality at the Hammersmith centre until the lease terminates.
The CMA has decided that there are reasonable grounds for believing that the undertakings offered by Regus, or a modified version of them, might be accepted in lieu of a reference to a phase 2 investigation.
The CMA now has until 1 February 2016 to consider whether to accept the undertakings, or a modified version of them. It can extend this deadline if there are special reasons for doing so.
As part of this process, the CMA will undertake a public consultation on whether the proposed undertakings are sufficient to address the competition concerns. If the CMA does not accept the undertakings, it will refer the acquisition for a phase 2 merger investigation.
Please see the case page for more information.
Published 2 December 2015