Press release
CMA appoints new director
The CMA has appointed Gavin Knott as a Director of Remedies, Business and Financial Analysis.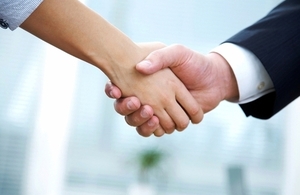 Gavin joins the CMA's Remedies, Business and Financial Analysis (RBFA) team under Senior Director Adam Land. Adam's team reports jointly to Executive Director of Mergers and Markets, Andrea Coscelli and Chief Executive Alex Chisholm, to reflect the evolution of RBFA as a key profession in the CMA.
Gavin joins the CMA from Oxera, where he has been working as an economic adviser in regulation and corporate finance across a range of infrastructure sectors, both in the UK and internationally. Prior to working at Oxera, Gavin worked for 7 years in economic regulation, including as a member of the executive team at Postcomm, and as a Principal at Ofcom, and also for 10 years in the private sector in a range of roles in corporate finance and treasury. Gavin is a qualified accountant and corporate treasurer, and has a Ph.D. in quantitative finance.
Andrea Coscelli said:
I am delighted to be able to announce this senior appointment, which will significantly strengthen the CMA's capability in the areas of regulatory and corporate finance.
Notes for editors
The CMA is the UK's primary competition and consumer authority. It is an independent non-ministerial government department with responsibility for carrying out investigations into mergers, markets and the regulated industries and enforcing competition and consumer law. From 1 April 2014 it took over the functions of the Competition Commission and the competition and certain consumer functions of the Office of Fair Trading, as amended by the Enterprise and Regulatory Reform Act 2013.
For more information on working for the CMA and current vacancies visit our recruitment page. The CMA is currently recruiting for a number of roles in the Cartels and Criminal Group as well as elsewhere in the organisation.
Enquiries should be directed to Rory Taylor (rory.taylor@cma.gsi.gov.uk) or by ringing 020 3738 6798.
Published 29 January 2015