Press release
CMA announces 3 senior appointments
The CMA has today announced its new Senior Director of Remedies, Business and Financial Analysis (RBFA) as well as the appointment of 2 new Directors of Mergers.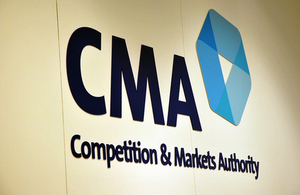 Following an external competition, Adam Land has been appointed as Senior Director of RBFA and will start in his new role, to which he was successful on internal promotion, in early December. This post became vacant following the decision of current Group Director, David Roberts, to leave the organisation at the end of November to pursue new opportunities. Adam will report jointly to Executive Director of Mergers and Markets, Andrea Coscelli and Chief Executive Alex Chisholm, to reflect the evolution of RBFA as a key profession in the Competition and Markets Authority (CMA).
Andrew Wright and Jonathan Parker have been appointed into 2 newly created posts of Directors of Mergers. Starting in early November, they will manage a portfolio of merger cases at phase 1 and may also carry out phase 2 inquiries. They will report to the Senior Director, Sheldon Mills. Nelson Jung will become Director of Mergers Group and take on enhanced responsibilities including management tasks. The expanded Director capacity will improve the ability of the CMA to exercise its merger powers within the tight statutory timetables resulting from recent legislative reform.
CMA Chief Executive, Alex Chisholm, said:
These appointments reflect the excellent quality of our internal candidates and I look forward to working with all of them in their new roles. I believe their existing knowledge of the organisation, coupled with their decision making and project skills, will support the senior leadership team in its on-going aim to increase the impact and effectiveness of the CMA.

I would also like to thank David for all his hard work over the last 12 years in successfully developing the RBFA group as a leading centre of expertise in remedies and financial analysis. This has involved work on many prominent cases including BSkyB, payment protection insurance, BAA and latterly aggregates and private healthcare.'
Notes for editors
Biographies (in the order they appear above):

Adam Land: is currently Project Director on the CMA's payday lending market investigation. He joined the Competition Commission (CC) in May 2004 where he worked on numerous merger and market investigations, both as a Director of Remedies, Business and Financial Analysis and as the Head of Policy Analysis. Prior to that he was at HM Treasury, where he worked on the Cruickshank and Barker reviews and other issues, and at the Office of Fair Trading (OFT) for 5 years, providing economic advice on mergers and competition issues in financial services.
Andrew Wright: has been at the CMA/CC for 10 years, working for the last 8 years as a project director on a mix of phase 2 market and merger investigations and regulatory appeals. Prior to joining the CC, Andrew worked in corporate finance, advising technology and telecoms companies on mergers and acquisitions.
Jonathan Parker: joined the CMA as a Legal Director, earlier this year. He joined from Allen & Overy, where he was a Senior Associate for over 6 years. He has over 13 years of UK and EU competition law experience, working both in London and Brussels, and is the author of 'UK Merger Control'. In 2012, Jonathan was shortlisted for the Global Competition Review's top 40 antitrust practitioners in the world aged under 40.

The CMA is the UK's primary competition and consumer authority. It is an independent non-ministerial government department with responsibility for carrying out investigations into mergers, markets and the regulated industries and enforcing competition and consumer law. From 1 April 2014 it took over the functions of the CC and the competition and certain consumer functions of the OFT, as amended by the Enterprise and Regulatory Reform Act 2013.
Media enquiries to be directed to Kasia Reardon on 0203 738 6901.
For CMA updates follow us on Twitter @CMAgovuk, Flickr and LinkedIn. For case updates sign up to our daily email alerts.
Published 16 October 2014