News story
CMA accepts undertakings in Greene King/Spirit merger
The CMA has today accepted undertakings offered by Greene King to remedy competition concerns identified as a result of its acquisition of Spirit.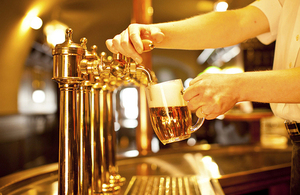 On 26 May 2015, the Competition and Markets Authority (CMA) announced that it would consider in detail the undertakings proposed by Greene King plc (Greene King) instead of referring the merger for an in-depth phase 2 investigation.
Greene King has offered to sell 16 pubs in order to address the competition concerns identified. These pubs would be divested by Greene King as properties, together with the relevant pub name and, for managed pubs, the transfer of Greene King/Spirit Pub Company plc (Spirit) staff.
Before accepting the undertakings, the CMA carefully assessed and consulted publicly on the proposed undertakings. The CMA received one comment on the consultation which it carefully considered, and is satisfied that the undertakings will resolve the competition concerns identified.
The undertakings and all other information relating to this investigation can be found on the case page.
Published 22 June 2015