News story
CMA accepts remedy in serviced office space merger
The Competition and Markets Authority has today accepted a remedy to resolve competition concerns arising from Regus' acquisition of Avanta.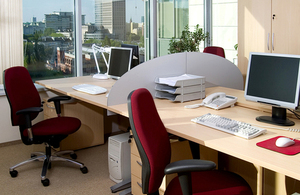 The Competition and Markets Authority (CMA) announced on 18 November 2015 that it would consider in detail a remedy proposed by Regus plc (Regus), instead of referring the case for an in-depth merger investigation.
Regus has offered to sell the Avanta Serviced Office Group plc (Avanta) serviced office space centres located in the Hammersmith, Victoria, Canary Wharf/Docklands, Euston/King's Cross and Paddington areas of central London to a suitable purchaser (or purchasers).
Regus also offered a behavioural remedy in relation to the Hammersmith centre, in the event that the landlord decides to terminate Avanta's lease early and a suitable purchaser therefore cannot be found for that centre. The behavioural remedy would limit Regus' ability to raise prices or reduce quality at the Hammersmith centre until the lease terminates.
The CMA has accepted the remedy offered, which it considers is appropriate to resolve its concerns. Before reaching a final decision, the CMA carefully assessed and consulted publicly on the proposed remedy.
The CMA received one submission in response to its consultation, which it considered, and is satisfied that the proposed remedy will remedy the concerns identified.
The remedy and all other information relating to this investigation can be found on the case page.
Published 1 February 2016