News story
CMA accepts records management merger undertakings
The CMA has accepted undertakings from Iron Mountain Inc to sell C21 Data Services in Aberdeen and Dundee to an approved buyer.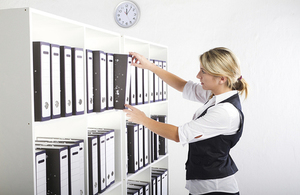 Iron Mountain and Recall both provide records management services, which comprise the storage and retrieval of paper and hard copy records, and physical offsite data protection services, which involve the storage and retrieval of data and media on tapes/discs.
In its final report published on 16 June, the Competition and Markets Authority (CMA) concluded that the merger may be expected to result in a substantial lessening of competition in the Aberdeen and Dundee areas by reducing alternatives for customers of records and information management services, as well as in the supply of specialist services to oil and gas customers in the Aberdeen area. The CMA concluded that Iron Mountain would have to sell Recall's existing operations in Aberdeen and Dundee, known as C21 Data Services, in order to preserve competition.
Iron Mountain has therefore offered undertakings (PDF, 505KB, 30 pages) to sell the entire share capital of C21 Data Services to a buyer, to be approved by the CMA.
All information relating to this investigation can be found on the case page.
Published 7 September 2016