News story
CMA accepts Breedon takeover remedy
The CMA has today accepted a remedy to resolve competition concerns arising from Breedon's acquisition of Hope.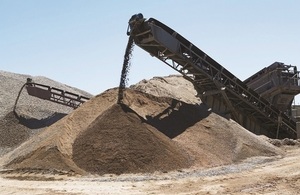 Both Breedon Aggregates Limited (Breedon) and Hope produce and supply aggregates and ready-mixed concrete (RMX). Aggregates are used in the construction of roads, buildings, bridges and other infrastructure - as well as in the production of RMX, concrete products and asphalt. RMX is concrete which is produced in a freshly-mixed and unhardened state ready for use on site. The merged entity will operate over 200 RMX sites across England, Wales and Scotland.
The Competition and Markets Authority (CMA) announced on 26 April 2016 that it would consider in detail a remedy proposed by Breedon instead of referring the case for an in-depth merger investigation.
Breedon has offered to sell 14 RMX sites to Tarmac and the Concrete Company, both of which have been approved by the CMA.
The CMA has accepted the remedy (PDF, 5.7MB, 17 pages) , which it considers appropriate to resolve its concerns. Before reaching a final decision, the CMA carefully assessed and consulted publicly on the proposed remedy.
The CMA received no submissions that raised merger specific concerns, and is satisfied that the proposed remedy will address the concerns identified.
All information relating to this investigation can be found on the case page.
Published 27 July 2016