News story
CMA accepts bowling remedy
The CMA has today accepted a remedy in relation to The Original Bowling Company's acquisition of Bowlplex.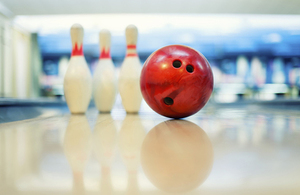 On 1 September 2015, the Competition and Markets Authority (CMA) announced it would consider in detail the undertakings proposed by The Original Bowling Company Ltd (TOBC).
TOBC has offered to sell 6 ten-pin bowling centres to Essenden Limited, owner of Tenpin Limited, to remedy the competition concerns identified by the CMA during its phase 1 investigation. The 6 centres are in Bristol, Camberley, Cardiff, Dudley, Castleford and Glasgow.
As a result of the CMA's acceptance of these undertakings, TOBC's purchase will not be referred for an in-depth phase 2 investigation.
Before accepting the undertakings, the CMA carefully assessed and consulted publicly on the proposed undertakings, including on the suitability of Essenden Limited a proposed purchaser. The CMA is satisfied that the undertakings will resolve the competition concerns identified and that Essenden Limited as the agreed purchaser will operate the 6 ten-pin bowling centres in competition with TOBC's retained ten-pin bowling centres.
The undertakings and all other information relating to this investigation can be found on the case page.
Published 1 December 2015