Press release
Closure of the UN Peacebuilding Mission in Sierra Leone
Foreign Office Minister Mark Simmonds commends 15 years of UN peacebuilding in Sierra Leone.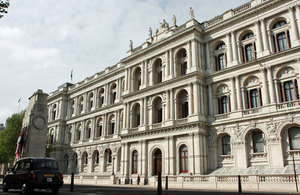 Sierra Leone's Foreign Minister addressed the United Nations Security Council today to mark the end of more than 15 years of UN operations, supporting Sierra Leone's transition from war to peace. Speaking to mark this event Foreign Office Minister for Africa Mark Simmonds said;
I welcome the closure of the UN Peacebuilding Mission in Sierra Leone. This is a momentous occasion that signals the enormous progress that Sierra Leone has made since the end of the civil war. It is another milestone in Sierra Leone's journey from fragile state to a country which now supports conflict resolution efforts around Africa. In 2002 Sierra Leone hosted the world's largest peacekeeping mission. In 2014 Sierra Leone is contributing troops to other peacekeeping missions in Africa. This is testament to the determination of the people of Sierra Leone who have worked hard to build a peaceful and secure future for their country.

I commend Executive Representative of the Secretary General Jens Toyberg-Frandzen and all other UNIPSIL staff for their dedicated work in Sierra Leone and welcome David McLachlan Karr as the new UN Resident Coordinator. As the UNSG recognised during his recent visit to Sierra Leone there is still much to be done if we are to consolidate the gains of the last decade. This is why the UN, the UK and other members of the international community will continue to work with the Government of Sierra Leone.

The UK is committed to working with Sierra Leone to deliver progress on President Koroma's five year development plan, the Agenda for Prosperity. The recently agreed, Mutual Accountability Framework will ensure the 'New Deal for Fragile States' agreed at Busan, Korea in 2011 is implemented, as well as alignment between the Government of Sierra Leone and donor partners according to clear milestones of progress. The UK led International Security Advisory Team will continue to assist the reform of the security sector. The private sector will be the cornerstone of sustainable growth. I am delighted therefore that Sierra Leone will be one of seven new markets to receive UK Trade and Investment resources.
Further information
Follow Foreign Office Minister Mark Simmonds on twitter @MarkJSimmonds
Follow the Foreign Office on twitter @foreignoffice
Follow the Foreign Office on facebook and Google+
Published 26 March 2014