Government response
Closure of the skates and rays fishery in Eastern English Channel
The MMO has clarified the recent closure of the skates and rays fishery in the Eastern English Channel (ICES area VIId).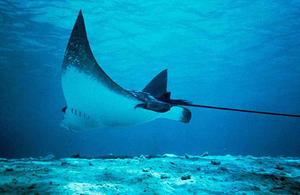 The fishery was closed from Sunday 28 September to both under and over 10 metre vessels. We are continuing to review the situation, however aren't able to say at this stage whether we will be able to open the fishery again before the end of the year.
The closure was published [on our website on Thursday 25 September 2014 in a licence variation. A link to this was also sent via electronic means to fishing vessel licence holders and shared on the MMO's Twitter and Facebook accounts. We are looking at ways to further increase visibility of information about closures in future.
We believe it's very important that fishermen have their say and attend quota surgeries so that local factors can be taken into account when decisions on catch limits are taken.
Statistics on quota use are available on our website.
Published 3 October 2014