Climate and Energy Security Envoy engages Canadian audience
Rear Admiral Neil Morisetti speaks on why climate security matters in podcast with Canada's Carleton University.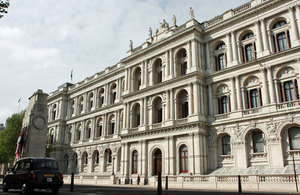 During a recent visit to Canada the UK's Climate and Energy Security Envoy, Rear Admiral Neil Morisetti, recorded a podcast [MP3, 56KB] for Carleton University's Centre for European Studies. In the interview Rear Admiral Morisetti talks about his role and the global risks caused by climate change.
An excerpt from the interview is available on the Foreign Office's YouTube Channel.
The interview was recorded in Ottawa where the Rear Admiral met with government officials and took part in a panel discussion on Climate Security. The standing-room-only event at the British High Commission was organised in association with Ottawa's Carleton University, and saw the UK's Climate and Energy Security Envoy share a podium with respected Canadian newspaper columnist Jeffrey Simpson, High Commissioner Anthony Cary, and Carleton University Vice-President (Academic) Dr. Peter Ricketts.
During his presentation Rear Admiral Neil Morisetti said:
"I have come to Canada to learn, to understand Canada's perspective and engage in a discussion on how we can address these issues and how we can take them forward on an international basis."
Now in his second year in the unique role, and under new UK government leadership, Rear Admiral Morisetti was able to draw convincingly on his experiences discussing these critical issues with US, Chinese, and many other concerned countries across the globe. He explained that climate change is a threat-multiplier that adds further stress to regions that are already suffering from weak governance and low levels of development. In this context, Morisetti made it very clear that the security implications of climate change were not for the military alone to fix. Rather, we need comprehensive solutions that address the problems of climate change, climate security, and energy security in parallel at the political level.
Jeffrey Simpson spoke eloquently of the need for climate change to be considered a national security issue in Canada and of the need for leadership in the face of the already visible changes to Canada's environment. Both speakers emphasised that adapting to climate change was not enough but that ambitious action on the mitigation of greenhouse gas emissions had to be taken.
While in Canada Rear Admiral Morisetti also met with officials in British Columbia and Alberta, where he took time to talk with the Calgary Herald newspaper about climate change and its effect on military operations.
Search the news archive
Published 29 September 2010