Press release
Clay company pays heavy price for toxic discharge
Imerys Minerals have been ordered to pay £100,000 in fines and costs for allowing a hazardous chemical to enter a Cornish river.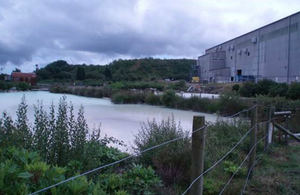 The case was brought by the Environment Agency.
The offence occurred in July 2013 after staff at Rocks Dryers, a site operated by Imerys near Bugle, St Austell, flushed a hazardous substance called 'Jayfloc 85' out of a redundant storage tank and into drains where it entered a series of settlement lagoons before discharging into Rocks Stream, a tributary of the Par River.
Imerys failed to carry out a risk assessment despite Jayfloc85 being classified by its manufacturer as 'hazardous' and 'harmful to aquatic life'. Guidance on its use clearly states this chemical should not be allowed to enter 'drains/surface waters/ground waters'.
The company has an Environment Agency permit to discharge into the Rocks Stream from a single discharge point. Liquids entering the settlement lagoons undergo a basic treatment. China clay solids held in suspension settle out of the liquid and accumulate in the bottom of the lagoons. Sodium carbonate is then used to adjust the pH before the effluent is discharged. The system is not designed to treat toxic chemical pollutants such as Jayfloc85.
On the day of the offence, the chemical, which is used in the processing of china clay, was flushed out of the storage tank and into the site's effluent system and settlement lagoons via drains.
Imerys did not believe the chemical would harm the environment as it claimed the volume released was relatively small (estimated at 474 litres) and once in the settlement lagoons, it would have been heavily diluted.
The company failed to check the manufacturer's data sheet about the harm Jayfloc85 can cause if it escapes into streams, lakes and rivers. The chemical should have been removed from the site and either used elsewhere or taken to a permitted site for safe disposal.
The Par River, downstream of the discharge point, flows into Par Beach, a designated bathing water popular with holidaymakers.
Chris Barnes, for the Environment Agency, said:
This case demonstrates how important it is for site operators to have effective training and management systems in place to prevent the discharge of toxic chemicals into the environment. Clearly, this wasn't the case at Rocks Dryers where Imerys failed to properly assess the risks of emptying a hazardous substance into the site's drainage system. Had it done so, the company would have soon realised the disposal of hazardous chemical in this way is illegal.
At an earlier hearing Imerys Minerals Limited pleaded guilty to, on around 25 July 2013, discharging poisonous, noxious or polluting matter into inland freshwaters including the Rocks Stream, Rosevean Stream and Par River in contravention of Regulation 12(1)(b) of the Environmental Permitting Regulations 2010.
Appearing before Truro Crown Court on 20 January 2017, the company was fined £75,000 and ordered to pay £25,000 costs.
Published 27 January 2017