News story
Civilians continue to support operations in Afghanistan
The Minister for Defence Equipment, Support and Technology, Philip Dunne, has presented Afghanistan campaign medals to 26 civilian employees working for the Defence Support Group in a ceremony at MOD Donnington.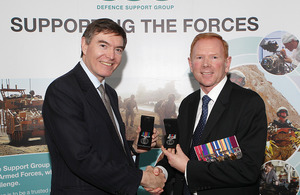 The Defence Support Group operates the purpose-built 'Equipment sustainability system regeneration capability workshop' in Camp Bastion.
The team repairs equipment in-theatre, making sure it is available for troops and extending the life of the vehicles. Their work saves the lives of our servicemen and women whilst delivering savings of over £90 million to MOD.
In 2012 alone, over 100 DSG employees received a campaign medal, honouring the significant risk they face during deployment in Afghanistan.
DSG employees also receive high praise from UK politicians, Army chiefs and senior MOD civil servants and most importantly from the troops on the ground.
Philip Dunne said:
Having heard so much about the vital work DSG provides in support of equipment sustainability for our troops on the ground, I made sure that on my trip to theatre last month I had the opportunity to meet and thank the workforce.
I can certainly testify that their ability to get vehicles back into operations is impressive.
Today's medal ceremony is further testament of the high regard we have for our civilian workforce and for the essential support they provide to their military colleagues and the ongoing campaign.
I was honoured to be able to present campaign awards and thank committed recipients from DSG in person.
Published 27 February 2013