Press release
City deal to unlock young people's potential in Thames Valley Berkshire
£2.4 million from the Youth Contract will be invested to boost youth employment.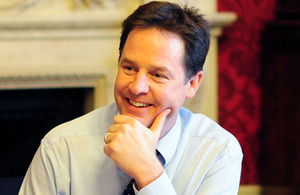 A landmark deal will be signed today by Deputy Prime Minister Nick Clegg, Cities Minister Greg Clark, local businesses and leaders from Reading, West Berkshire, Wokingham, Bracknell, Slough and Windsor & Maidenhead councils. The deal is the latest of the second wave of City Deals to get the green light from government.
Under this historic deal, £2.4 million from the Youth Contract will be invested to boost youth employment. This new approach will support 4,500 young people over 3 years by providing a single access point to employment and skills opportunities for 16 to 24-year-olds across Thames Valley Berkshire, which will be tailored to exactly what young people in the area need to find a job.
The deal has been agreed following negotiation over several months. It will allow the Thames Valley Berkshire area to take control of the levers of government from Whitehall in order to address unemployment of 16 to 24-year-olds in the region and unleash economic growth.
Deputy Prime Minister Nick Clegg said:
This is an important deal for the people of the Reading and the rest of Berkshire which will help thousands of young people develop the skills and confidence to grasp the opportunities to build successful careers. I am pleased that we have been able to put £2.4 million funding from the Youth Contract to such innovative use, bringing together businesses with local public services to tackle youth unemployment and help more young people make an instant impact in the world of work.

Trialling new, cutting edge approaches to find local solutions to local problems like youth unemployment is exactly what City Deals are about. This deal will help equip businesses with the skills they need to grow – and will mean that everyone in Thames Valley Berkshire will feel the benefits, from young people playing their part in a prosperous economy, to businesses looking to expand.

This is a fair way for government to support cities as they grow and I look forward to signing ambitious deals with many more cities that will follow the lead of pioneers like Thames Valley Berkshire.
Minister for Cities and the Constitution, Greg Clark, said:
I am delighted to be signing this deal with the business, civic and educational leaders in Reading and Berkshire.

Jobs are being created across the area as the economy has returned to growth and this makes sure that no stone is unturned in getting young unemployed people into those jobs. This proposal was the idea of businesses and local leaders in the area and they pitched it to the government. I'm pleased that we have been able to say 'yes' and agree the deal.
Over the next 3 years, the Thames Valley Berkshire City Deal agrees:
£2.4 million from the Youth Contract will be invested to boost youth employment. This new approach will provide a single access point to employment and skills opportunities for 16 to 24-year-olds across Thames Valley Berkshire, which will be tailored to exactly what young people in the area need to find a job. Thames Valley Berkshire Local Enterprise Partnership has committed to match fund this, and will commit to securing private sector investment through business engagement
the new programme will support 4,500 young people and create 1,500 new work experience placements, 300 additional Apprenticeships and 800 new Youth Contract Wage Incentives for eligible businesses
to work with the Cabinet Office's Behavioural Insights Team to trial and apply innovative new ideas to reduce youth unemployment, and increase the number of business that offer opportunities to young people
subject to a successful bid to the Wave 2 Business Growth Fund, grant funding (to be matched by Thames Valley Berkshire businesses) to develop a new, more joined up approach to business support services in the area, raising awareness and increasing uptake of local and national business support and developing bespoke programmes to support growing firms
to put in place a governance structure that enables Thames Valley Berkshire local authorities to work together and with the Local Enterprise Partnership to deliver the City Deal and to prepare for the Local Growth Deal
Published 28 October 2013