Press release
Choose the best GP for you
Patients in parts of London, Manchester and Nottingham will be able to register or receive a consultation with a GP practice of their choice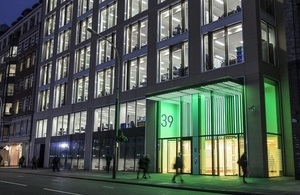 Patients in parts of London, Manchester and Nottingham will be able to register or receive a consultation with a GP practice of their choice under plans announced today by Health Secretary Andrew Lansley.
Busy commuters will benefit the most from the new pilot scheme, which allows patients for the first time to choose whether to register with a practice close to their workplace or home, without worrying about practice boundaries.
The announcement means commuters in the pilot areas, who are often away from their local area during the working day, will find it easier to see their doctor where it suits them, and receive the same services as in their old practice.
The pilot, which will begin in April 2012 and last for one year, will also come as a relief to people who are moving home and wish to remain with their preferred practice, and families who would like a practice near to their children's school.
Health Secretary Andrew Lansley said:
"This is just the beginning of a range of measures we hope to introduce to make the NHS truly patient focussed and will allow us to better understand their needs.
"Many patients are happy with their local GP practice, but a significant minority have problems registering with a practice of their choice. This pilot will mean patients taking part can access the high quality care they deserve in a place and at a time that suits them.
"That's why I believe patients should have the freedom to choose a GP practice that suits their lives, and not be restricted by geographical boundaries."
A Westminster GP Ruth O'Hare said:
"This initiative will mean that commuters working in the heart of London will in future have far greater flexibility around their choice of GP, enabling some to choose to see a GP closer to where they work.
"I welcome this exciting initiative which the Department of Health is resourcing as it offers patients greater access to NHS care at a time and place that is convenient to them."
Notes for Editors:
1.    For media enquiries please ring the Department of Health newsdesk on 0207 210 5221.
2.    The pilot sites have now been selected.  They are in Central London, Manchester/Salford and Nottingham.  The PCTs involved in the pilots are Westminster, City & Hackney, Tower Hamlets, Manchester, Salford and Nottingham City.  GP practices in these PCT areas will be able to join the pilot on a voluntary basis.
3.    The Pilot sites have selected because they have high numbers of commuters travelling into the area each day, and one of the sites (Nottingham) is an existing live 111 pilot site.
4.    Participation will be voluntary.  The funding to pay for patients who use surgeries on a consultation-only basis will be capped at £2m.
5.    The pilots will be subjected to an independent evaluation organised by the Department of Health.
Published 30 December 2011