Press release
Chloe Smith joins Baroness Tanni Grey-Thompson to launch Energy Club
Energy Club, a Cabinet Office-backed physical activity scheme for children aged between 4-11 years old, has been launched.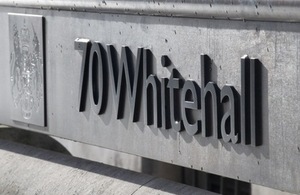 24 October 2012
Cabinet Office Parliamentary Secretary Chloe Smith joined Paralympian Baroness Tanni Grey-Thompson at the House of Commons on Monday, October 22, to celebrate the launch of Energy Club, a Cabinet Office-backed physical activity scheme for children aged between 4-11 years old.
Energy Club is a volunteer movement initiated by the charity and social enterprise Sports Leaders UK, supported by a £900,000 grant from the Cabinet Office's Social Action Fund.
Energy Club will provide a lasting legacy from the Olympic and Paralympic Games by tackling the increasingly sedentary lives of young children which currently sees 23% of 4-5 year olds overweight or obese as they enter primary school, rising to 33.3% as the children reach 10-11 years old. Energy Club provides fun, free activity sessions, which include healthy eating and nutrition information, led by a trained volunteer force.
Volunteers will be parents and members of school networks, including young adults and volunteers from major corporations, who will receive training, on-going support, guidance and equipment.
The Social Action Fund has been created to support the government's vision for a Big Society by funding proposals that will embed long term increases in giving. The funding is enabling established and proven models of social action to scale up and grow, creating new opportunities for people across the country to make a difference in their communities.
Cabinet Office Parliamentary Secretary Chloe Smith said:
We're using the Social Action Fund to support projects like Energy Club which can help build a bigger, stronger society. By bringing schools, parents and businesses together in this fantastic project, Energy Club will help keep the legacy of the London 2012 Games alive by ensuring more children can benefit from a healthy, physically active lifestyle.
Sports Leaders UK President and Paralympian Baroness Tanni Grey-Thompson said:
Energy Club is an exciting opportunity as our country moves forward from a fantastic summer of sport. This scheme builds on the great volunteer movement we saw during the Games to provide schools with free club activities; physical activity improves children's health and wellbeing, academic performance, behaviour, self-esteem and weight management - and we're taking action before sedentary behaviours become set. Our belief is that kids are built to have fun being physically active - it's just that these days they need a little more help. I would encourage schools, parents and volunteers alike to get involved with this great movement.
Linda Plowright, CEO of Sports Leaders UK said:
Energy Club is about mobilising a new group of volunteers to get our kids having fun, and getting active. It is different because it takes the people who care most about kids, gives them training and support, so they can make a difference in their local community. This is about communities taking social action and I urge anyone interested in signing up their school, or who wants to know how they can train to become a volunteer, to visit our website and fill in their contact details. This is an exciting time to help get our kids, and their families' active after the success of London 2012 and we want as many people as possible to be involved.
Anyone interested in volunteering for Energy Club or registering their Primary School should visit the Energy Club website.
Published 24 October 2012