Press release
Chip your dog and check your chip
Dog owners reminded to keep details up to date on the 1st anniversary of microchipping law.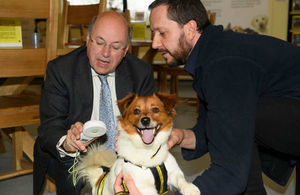 Dog owners are being reminded to make sure pets' microchip details are up to date as the latest figures reveal 95% of UK dogs are now fitted with a chip, meaning they can be reunited with their families if they are lost or stolen.
One year on from the introduction of compulsory microchipping, statistics from the Department of Environment, Food and Rural Affairs (Defra) show the number of dogs fitted with a microchip has increased by more than 60% in four years.
Thousands of dogs have been reunited with their owners and according to the Dogs Trust's annual survey, the number of stray dogs fell last year by 21% to its lowest level since the survey began. However, it is vital that owners make sure the microchip details are kept up to date so they can be easily contacted if their pet is lost or stolen.
Latest figures show 8 million dogs are now microchipped, 3 million more than in 2013 when plans were first announced.
Animal Welfare Minister Lord Gardiner said:
Thanks to microchipping, thousands of dogs have been reunited with their owners and the number of stray dogs is now at a record low.

It is excellent to see that so many owners have taken action to get their dogs chipped—a painless process for dogs which many charities will carry out for free. However, still too many are not being reunited where owners have not updated their details when they move home or get a new phone number—heart-breaking for the owner, and easily avoidable with a five-minute phone call.

All dog owners have a responsibility to microchip their dog and it is very encouraging to see such a strong take-up—now owners must make sure this effort does not go to waste and check their dog's chip is up to date.
Microchips give owners peace of mind and relieve the pressure on animal charities and local authorities caused by caring for stray dogs. In April 2016 the Government introduced a law requiring all dogs to be painlessly fitted with a chip containing their owner's details.
Alex Jackson, Head of Campaigns at Dogs Trust added:
Whilst we will continue to work hard to make sure the remaining 5% of dog owners get their dog chipped, we are pleased that the law is working well across the UK. A good proportion of local councils are issuing notices to people who have not microchipped their dogs or updated their details, so we hope to see the total number of people complying with the law increase significantly over the next few years.

It's essential that in addition to getting their dogs microchipped, the details on the database are up-to-date, to ensure they have the best possible chance of being reunited with their pet should they become lost. It's also a legal requirement for dogs to wear a collar and tag displaying the owner's name and address when out in public.
Our #doggyreunion campaign aims to educate owners about the importance of these simple acts, which can make all the difference when it comes to being reunited with your dog, should they become lost.
Charities including the Dogs Trust have urged owners to ensure their microchip details are kept up to date – for example when they move house or change their phone number. Owners can update their information easily online or over the phone, and advice on updating details can be found on here.
All microchips need to be registered with an approved database, and changing your pet's details is usually quick and straightforward. Contact details for each database can usually be found on their websites, and pet owners should contact their vet if they encounter any problems.
Published 6 April 2017