Press release
Children living in workless households falls across Great Britain
Official figures released today show the proportion of children living in a household with no working adults has fallen in every region of Great Britain since 2010.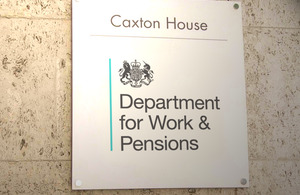 The figures, released by the Office for National Statistics (ONS), also show:
around 9 in 10 children live in households with at least one working adult
the number of children living in a household with no working adults is at a record low
A government report released earlier this year found that children living in workless families are significantly more disadvantaged and achieve poorer educational outcomes than other children, including those living in lower-income working families.
In comparison, three-quarters of children from workless families moved out of poverty when their parents found full-time work.
Employment Minister, Damian Hinds said:
These latest figures are further proof that the strength of the economy is benefitting every part of the country. Our welfare reforms are encouraging more people into work, improving families' security and children's life chances.

There's more still to do and we will build further on this progress with the roll-out of Universal Credit, ensuring it always pays to be in work.
In May 2017, ONS confirmed that the number of workless households in the UK has fallen to a record low. Those figures showed that the number of children in workless households has fallen by 6% in just a year – equivalent to 90,000 children across the UK.
The latest employment figures (July 2017) show that there are a record 31.01 million people in work, and the unemployment rate (4.5%) is the lowest level since 1975.
Income inequality has fallen since 2010, and the proportion of people living in relative poverty is near its lowest level since the 1980s. In recent years the government has doubled free childcare, introduced Universal Credit and increased the National Living Wage and tax-free Personal Allowance.
Under Universal Credit, people are moving into work faster and staying in work longer than under the old system. Universal Credit is designed to mirror the way many people in work are paid, with budgeting advice and benefit advances available for anyone who needs extra help.
More information
Read the ONS release, Workless households for regions across the UK: 2016.
Records and more recent changes at national level are based on Working and workless households in the UK: Jan to Mar 2017, released by ONS earlier this year.
Read the government reports Child poverty transitions: exploring the routes into and out of poverty 2009 to 2012 and Improving Lives: Helping Workless Families.
Percentage of children in workless households, 2010 and 2016
| Area | 2010 | 2016 |
| --- | --- | --- |
| Great Britain | 16.6% | 11.4% |
| England | 16.6% | 11.2% |
| North East | 19.8% | 15.4% |
| North West | 18.4% | 13.3% |
| Yorkshire and the Humber | 18.9% | 14.4% |
| East Midlands | 16.1% | 11.7% |
| West Midlands | 19.9% | 13.7% |
| East | 11.7% | 9.1% |
| London | 22.6% | 10.9% |
| South East | 10.8% | 7.6% |
| South West | 11.6% | 8.3% |
| Wales | 18.8% | 13.9% |
| Scotland | 15.2% | 12.5% |
Source: ONS, Workless households for regions across the UK: 2016, Table C1 LA
Contact Press Office
Media enquiries for this press release – 0203 267 5109
Press Office
Caxton House
Tothill Street
London
SW1H 9NA
London Press Office (national media and London area enquiries only – not questions about personal claims) 020 3267 5144
Out-of-hours (journalists only) 07623 928 975
England and Wales (local media enquiries) 029 20 586 then 097 or 098 or 099
Scotland (local media enquiries) 0131 310 1122
Follow DWP on:
Published 26 July 2017