News story
Child Sexual Abuse Inquiry: £2m funding boost for victims
The government today launched a £2 million fund for organisations reporting an increase in demand on their services prompted by the Child Sexual Abuse Inquiry.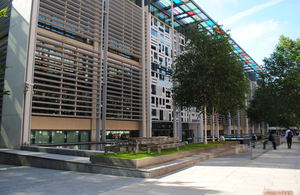 All organisations which support victims of child sexual abuse who have been directly affected by the Inquiry will be eligible to apply for a share of the fund, with bids assessed against a range of criteria and allocated to ensure urgent needs are met.
A further fund of £1.5 million is available to organisations providing support to all victims of child sexual abuse.
In addition to this money, £1.35m will be available for organisations across England and Wales which support victims of sexual abuse. This will be administered in parallel with the child sexual abuse fund.
Organisations are able to make bids for any or all of the available funds providing they meet the qualifying criteria.
Meanwhile, a further £2.15m will be given to 84 existing Female Rape Support Centres on top of current Ministry of Justice (MoJ) funding - meaning more victims of sexual assault will have access to specialist help than ever before.
The £7m total investment, announced today by Home Secretary Theresa May and Justice Secretary Chris Grayling, will run to the end of the 2015/16 financial year.
Home Secretary Theresa May said:
Child sexual abuse is a despicable crime which this government is absolutely determined to eradicate. Once, largely hidden, this is an issue we cannot, must not, ignore.

We have established a Child Sexual Abuse Inquiry to get to the truth of what has happened in the past, and ensure it can never be repeated.

This is the tip of the iceberg. We know more victims are coming forward and reporting the abuse they have suffered as public confidence increases that these allegations will be taken seriously, treated sensitively and pursued vigorously.

As a result, service providers are under considerable pressure. The funding announced today will ensure that victims of child sexual abuse receive the support they need, when they need it.
The allocation of extra funding to deal with referrals prompted by the Child Sexual Abuse Inquiry follows a series of meetings between the Home Secretary and survivors.
There has been a 40% increase in child sexual offences recorded by police in the last two years.
Female Rape Support Centres have received £4.1m each year since 2011 from the MoJ, rising to £4.4m in 2014/15, and extra funding will allow them to help more victims of rape and sexual abuse.
Justice Secretary Chris Grayling said:
It is crucial that victims of horrendous crimes like rape and sexual violence receive the specialist support they need to help them cope and recover, wherever they live and no matter whether they are victims of historical or recent abuse.

That's why we have pledged even more money for these centres which are ideally placed to offer expert support.

We are also working to double the £50 million we provided last year to a wide range of victims services, which will see more money than ever before spent on those who need it most.
Published 19 December 2014