Press release
Chief Operating Officer announces that he will be leaving government
UK government Chief Operating Officer Stephen Kelly has announced his resignation from the Civil Service.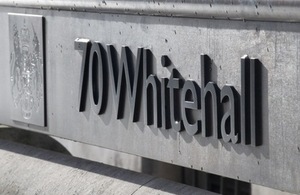 Stephen Kelly joined the Cabinet Office in 2011 and led the Efficiency and Reform Group under Cabinet Office Minister Francis Maude. He will continue in post before joining Sage Group plc as Group Chief Executive in November 2014.
Stephen Kelly said:
After immense consideration, I have decided to return to the private sector as Chief Executive of Sage. I have always been passionate about supporting SMEs, and this role is an excellent opportunity for me to play a crucial role in creating jobs and growth.

Since joining the Civil Service, I have been exceedingly fortunate to work for a minister who demonstrates outstanding leadership, inspiration and clarity, and I have encountered exceptionally bright, talented and committed colleagues. I am extremely pleased with the achievements of the Efficiency and Reform Group and Cabinet Office teams in driving sustainable efficiency and reform and the resulting savings accrued.

The Efficiency and Reform Group Executive team and Civil Service Heads of Profession have never been stronger and I believe that, with the appointment of the new Chief Executive for the Civil Service, central government will be further empowered to provide high quality services efficiently and to continue the reform agenda.
Cabinet Office Minister Francis Maude said:
Stephen Kelly has been a terrific leader of the government's efficiency and reform programme which for last year alone saved taxpayers £14.3 billion against a 2009-10 baseline. Getting more for less is a central part of our long-term plan for a stronger economy and I would like to thank Stephen for his energy, tenacity and commitment.

Although we have achieved an enormous amount we are still at the start of our work to transform Whitehall. Stephen will be missed greatly but he has developed an exceptionally strong team who will continue our reform work including by further strengthening commercial skills, digitising government and ensuring our major projects run to time and budget.
Published 6 August 2014