News story
Charter against homophobia and transphobia in sport: first football club signs up
Wycombe Wanderers the first football club to sign the Charter against homophobia and transphobia in sport.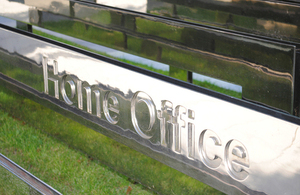 Kicking homophobia and transphobia out of sport
The Charter was launched by Equalities Minister Lynne Featherstone in March this year and commits signatories to challenge discrimination both on and off the pitch.
Wycombe Wanderers joins the growing list of supporters for the campaign including rugby union's Ben Cohen and tennis star Martina Navratilova, the Football Association, the Lawn Tennis Association, the England and Wales Cricket Board, the Rugby Football League and the Rugby Football Union.
Lynne Featherstone said: 'I congratulate Wycombe Wanderers on being the first football club to sign the Charter. They have joined 30 different sports and over 2000 other organisations and individuals who have pledged their support so far, and I applaud them for doing so. I encourage everyone who loves football to sign the Charter and help kick homophobia and transphobia out of sport for good.'
2000 organisations and individuals sign up
Matt Bloomfield, representative for the Wycombe Wanderers' Professional Footballers' Association, said: 'We're delighted to sign the government Charter for Action because it's important to tackle all forms of discrimination in the game that we all love. Homophobia and transphobia have no place in society and everybody should be able to enjoy sport, regardless of who they are and where they've come from.'
Bloomfield officially signed the Charter on behalf of the club ahead of the fixture with Charlton Athletic at Adams Park last night, and encouraged members of the public to back the campaign on Facebook.
The Charter is part of the government's Working for Lesbian, Gay, Bisexual and Transgender Equality: Moving Forward strategy.
Jason Hall, founder of the Justin Campaign, which was set up in 2008 in memory of Justin Fashanu, the world's first openly gay professional footballer, who took his own life in 1998, said: 'It's really good to see that Wycombe Wanderers have shown leadership in demonstrating their support for the Government's Charter. It's a pity though that other professional clubs have still yet to do the same. It really is time now for them all to take a stand along with Wycombe Wanderers.'
To sign up to the Charter for Action visit http://www.facebook.com/lgbtsportcharter or email sportscharter@geo.gsi.gov.uk
Published 26 October 2011