Charities across the UK benefit from Tampon Tax Fund
Seventy organisations across the country will share £12 million from the Tampon Tax Fund, helping to improve the lives of disadvantaged women and girls across the country.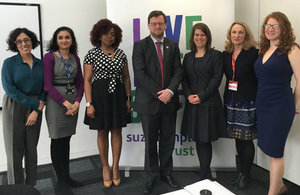 Visiting the Suzy Lamplugh Trust in South London that is to receive £200,000, Rob Wilson announced the full list of funding for charities from the latest round of the Tampon Tax Fund designed to benefit charities that support women and girls, particularly those affected by violence and domestic abuse.
Minister for Civil Society Rob Wilson said:
From Cornwall to Dundee, the Tampon Tax Fund continues to benefit organisations in every corner of the UK working to improve the lives of disadvantaged women and girls, including those who've been affected by violence.
This Fund is helping to improve lives, supporting our ambition to create a fairer, shared society for everyone. I'm glad that so many worthwhile organisations will benefit from this money.
Minister for Vulnerability, Safeguarding and Countering Extremism Sarah Newton said:
Violence against women and girls shatters lives and these projects will provide even more vital support to victims.
The Government is determined to end this abhorrent abuse and recently announced the introduction of stalking protection orders, set out plans to work towards a new Domestic Violence and Abuse Act and increased funding for tackling violence against women and girls to £100 million. But there is always more to do and the additional tampon tax money will provide a further lifeline to those at risk of domestic and sexual abuse, so-called 'honour-based' violence and stalking.
Some of the charities receiving funding include:
ENDS
Media enquiries and interview requests - please contact the DCMS News and Communications team on 020 7211 2210.
Notes to Editors
See the
of 70 organisations set to benefit from the latest round of funding.
This latest funding brings the total of investment awarded from the Tampon Tax Fund to £15m in 2016 / 17.
The government is committed to continuing the fund until EU rules allow a zero rate of VAT to be applied to women's sanitary products. A decision will be made on the future of the Fund once this has been achieved. Current EU laws prohibits any Member State from applying a new zero rate of VAT. We therefore currently apply the lowest rate we can to these products (5%).
Published 30 March 2017