Changes to counter terrorism powers recommended
New measures to restore civil liberties while continuing to protect the public from terrorism have today been outlined by Theresa May.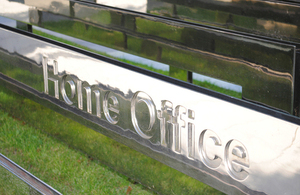 This follows a comprehensive review of security powers and legislation.
Key recommendations include putting an end to:
28 day detention without charge for terror suspects. The maximum period will be 14 days
indiscriminate use of terrorism stop and search powers
use of intrusive powers by local authorities to investigate low-level offences. Magistrate approval will also be needed
New control order system
Control orders will be replaced with a more focused regime.
Legislation to introduce the regime will be put before Parliament in the coming weeks. 
There will also be increased efforts to deport foreign nationals involved in terrorist activities in this country, while fully respecting human rights.
Balance to strike
Home Secretary Theresa May said: 'The threat from terrorism remains serious and complex and I have always said that this government's first priority is to protect public safety and national security. 
'But for too long the balance between security and British freedoms has not been the right one.
 
'The measures we are announcing today will restore our civil liberties while still allowing the police and security services to protect us.
'They are in keeping with British traditions and our commitment to the rule of law. I also believe they will restore public confidence in counter-terrorism legislation.'
The counter-terrorism review was launched in July last year and was asked to look at the issues of security and civil liberties in relation to the most sensitive and controversial security powers.
The aim was to ensure that the powers and measures were necessary, effective, and proportionate, while meeting the UK's international and domestic human rights obligations.
Read the Home Secretary's statement to Parliament here.

Published 26 January 2011