Press release
Change4Life and Disney announce national partnership
Change4Life and Disney are working together to inspire children to get more active.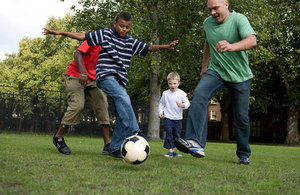 Change4Life and Disney are to partner on a major new campaign to encourage children to meet the minimum of 60 minutes of moderate to vigorous exercise they need every day. By helping children to do a few extra 10 minute bursts of daily activity, Change4Life and Disney aim to get the country moving for an additional 100 million minutes over the summer.
Disney has made a global commitment to helping families lead healthier lives, this ambition mirrors that of Change4Life which was set up to tackle childhood obesity 5 years ago. With 1.5 million families signed up, Change4Life has a proven track record of mobilising the country to eat well and move more through work with schools, local authorities, healthcare professionals, charities and community groups. Together Change4Life and Disney aim to inspire children to get active using Disney characters and stories as encouragement.
Children have an emotional connection to Disney stories and characters, which puts the company in a unique position to help inspire and encourage children to lead healthier lives. As part of this campaign, Disney is providing its characters to feature alongside recognisable Change4Life animations to create exclusive content for schools, TV, print and online media and for face-to-face events with the aim of inspiring children to do a number of extra 10 minutes of activity per day.
Dr Ann Hoskins, Director for Children, Young People and Families at Public Health England (PHE), said:
Change4Life has worked successfully with a number of partners over the past 5 years and we are particularly delighted to be working alongside Disney on this campaign. We hope this alliance will be a long-term strategic collaboration, with the aim of getting families eating better and moving more. We at PHE understand that it can be hard for parents to find things to keep the family busy and entertained during the school holidays. This campaign will, with help from Disney, provide children and families with everything they need to have an active and fun summer.
Disney has conducted research to understand how it could help encourage children to be more active and eat more healthily with help from Disney characters and stories as inspiration [1].
over 3 quarters of mums told us that being active and physically fit should be fun
56% say they want more resources to make healthy living easier
87% of mums said that a Disney healthy living programme would help their families
Marianthi O'Dwyer, Vice President, Head of Living Well at The Walt Disney Company said:
Imagine having your children's favourite characters like Mickey Mouse, Sulley or Olaf on hand to inspire them to get active, that's the vision for the summer campaign for Change4Life. For many years children and families have enjoyed Disney's timeless storytelling and wonderful characters, this partnership is about bringing those stories to life through simple, fun activities to help children get the daily exercise they need.
The '10 Minute Shake Up' campaign will run for 6 weeks from 15 July 2014 but activity packs are going out to primary schools across the country now. The packs have been created with innovative content to help teachers engage Key Stage 1 and 2 pupils in the 10 minute activity concept.
Ends
Notes to editors
The 60 minutes needed by school-aged children can be achieved by 1 daily session or through shorter bursts of 10 minute activity. 10 minutes performed several times a day is sufficient to improve fitness and health overall [2],[3]
In school-aged children, physical activity can lead to better academic achievement, increased attention span, improved behaviour and self-confidence as well as increased physical health and a reduced risk of developing chronic conditions in the future [2],[4].
Moderate intensity physical exercise will cause children to get warmer, breathe harder and their hearts to beat faster. Examples include bike riding and playground activities. Vigorous intensity activities include fast running and sports such as swimming or football.
Those who sign up to the campaign will, from 15 July, receive a free '10 Minute Shake Up' pack in the post.
The number of packs printed is based on the distribution figures from previous campaigns. The packs will be distributed on a first come, first served basis.
Public Health England's mission is to protect and improve the nation's health and to address inequalities through working with national and local government, the NHS, industry and the voluntary and community sector. PHE is an operationally autonomous executive agency of the Department of Health. www.gov.uk/phe and follow us on Twitter @PHE_uk
References
[1] Online survey and interviews with 700 mums of children aged 3 to 11 in the UK. Research commissioned by Disney, conducted by Hypothesis October to November 2013
[2] HSE 2012: Vol 1 Chapter 3: Physical activity in children
[3] Start Active, Stay Active – A report on physical activity for health from the four home countries CMOs July 2011
[4] Physical activity guidelines for children and young people (5 to 18 years). Department of Health July 2011
Public Health England Press Office
Wellington House
133-155 Waterloo Road
London
SE1 8UG
Published 16 June 2014