Cattle movement controls and surveillance strengthened to tackle bovine TB
Tighter control measures to reduce the risk of bovine TB spreading between cattle are to be introduced as part of the drive to eradicate the…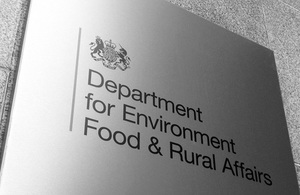 Tighter control measures to reduce the risk of bovine TB spreading between cattle are to be introduced as part of the drive to eradicate the disease in England.
The strengthened rules, which will come into force from 1 January 2013, include changes to the surveillance testing regime and cattle movement controls.
Agriculture Minister David Heath said:
"We need to stop the spread of bovine TB, which led to the slaughter of 26,000 cattle last year alone.
"These strengthened measures, alongside our badger control policy and the ongoing development of vaccines, are about reducing risks from all possible sources of TB infection to help control the disease and eventually eradicate it."
England will be divided into two cattle TB testing frequency areas. Annual TB testing of farms will be extended in the south-west, west and central England, and East Sussex to include adjoining areas which are at greatest risk from geographic spread of TB as well as the existing high risk areas where most TB cases are found.
The rest of England will be placed on four-yearly testing. Most TB breakdowns in this area are caused by the movement of infected cattle from the high risk areas. However, surveillance around TB breakdowns in the four-yearly tested area will be enhanced and herds at higher risk of TB infection will continue to be tested annually.
There are also new rules about cattle movements:
In all cases, farmers who have had a case of TB in their farm will not be allowed to bring new cattle in until the rest of the herd has been tested for TB and a vet has carried out an assessment;
Farmers now have 30 days, down from 60, to move cattle that test negative for TB from a TB breakdown farm;
Approved Quarantine Units (AQUs) are going to be phased out as they are considered too risky. AQUs are quarantine units on farms for calves from TB breakdown farms. From the new year existing AQUs will not be able to take on any more calves; and
TB free cattle are sent to Approved Finishing Units (AFUs) from TB infected farms for fattening before they are slaughtered. The conditions in these will be strictly monitored to maintain high standards and prevent the spread of TB. Some operators could even see their licences removed for serious breaches.
David Heath added:
"The Government and the farming industry are committed to doing all they can to halt the spread of TB.
"We already have strong measures in place to tackle transmission between cattle - including compulsory testing, slaughter of infected animals and movement restrictions on infected herds. However, as set out in the Bovine TB Eradication Programme in July 2011, we are always looking to improve our methods and will strengthen controls where necessary."
TB testing intervals will now be set at the county and not the parish basis. This is in line with EU law. Using a larger administrative unit than the parish is better epidemiologically and reflects a clearer picture of the distribution of the disease in England.
In addition to the counties currently on annual testing, Cheshire, Derbyshire, Nottinghamshire, Leicestershire, Northamptonshire, Oxfordshire, Buckinghamshire, Berkshire, Hampshire and East Sussex will all be placed entirely onto annual testing. The new annual testing will area includes the existing high risk area where most TB cases are found as well as adjoining areas which are at greatest risk of geographical spread of disease in the short to medium term.
Furthermore:
There will be no two-yearly and three-yearly tested areas or herds from 2013;
There will be no higher testing frequency parishes embedded in the four-yearly testing counties;
TB surveillance around OTF Withdrawn (OTF-W) breakdowns in the four-yearly testing area will be enhanced. Herds within a 3km radius of the case which is initially identified will require an immediate skin test and then follow up tests 6 months later and, if results are negative, 12 months thereafter. During this time, these herds will require pre-movement testing;
Individual high risk cattle herds in the four-yearly testing area of England (e.g. bull hire herds, heifer rearing herds, producer-retailers of raw drinking milk, regular purchasers of cattle from high incidence countries) will continue to be tested for TB every year as currently; and
Mandatory interferon-gamma blood testing of new OTF-W herds will continue, including for the time being in areas which in 2013 will be on annual testing but which in 2012 were either on 2, 3, or 4 yearly testing.
Following public consultation Defra announced the Government's Bovine TB Eradication Programme for England. The changes included:
Removing the exemption allowing cattle held on a farm for under 30 days to be moved without being tested, in order to reduce the risk of untested cattle spreading bovine TB when they are moved between different holdings;
Removing the pre-movement testing exemption for movements within 'Sole Occupancy Authorities' that have holdings in high and low risk TB areas;
Pre-movement testing for cattle moved from higher TB risk herds to agricultural shows where cattle are housed or are held there for more than 24 hours - to reduce the risk of untested cattle from higher TB risk herds spreading the disease through close contact with other cattle; and
Discouraging late testing of cattle for bovine TB to reduce disease spread risks for all cattle by reducing compensation for owners of TB affected herds if tests are overdue by more than 60 days.
Defra is developing measures to further reduce disease risks, including targeting the edge of the infected [or high risk] area, risk-based trading, reviewing use of interferon-gamma blood testing and how we deal with persistent herd breakdowns, and looking at measures to deal with TB in other species. Details on these will be announced as they are developed.
Published 18 October 2012