Cash grants to help disabled people in standing for election extended for another year
Helen Grant announces extension of Access to Elected Office for Disabled People Fund.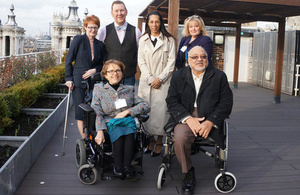 At an event hosted by the Local Government Association (LGA), Minister for Women and Equalities Helen Grant today announced the Access to Elected Office for Disabled People Fund will be extended to help cover the 2015 General Elections.
Launched in July 2012, the fund helps disabled people with additional costs that a disabled candidate may face in standing for election as a councillor or MP, such as extra transport or sign-language interpreters. Since the scheme launched there have been over 60 applications to the fund, which will now also cover Parish and Town Council elections.
Helen Grant said:
Disabled people are still under-represented in politics and I believe a strong democracy is an inclusive one. That's why we need to do more to encourage a diverse mix of candidates and role models to better reflect the society we live in. I'm delighted that we are extending the Access to Elected Office for Disabled People Fund, so even more people can benefit.
Minister of State for Disabled People Mike Penning said:
Sadly some people still have a misguided idea about disability. They hold outdated views that disability - whether it's physical or mental – isn't compatible with elected office. Well, not only are they wrong on a basic equalities level, but perhaps more importantly they are wrong on a purely practical level too. That is why this initiative is imperative to get a broader, more representative electorate in office, which reflects the needs of everyone - including the 11 million disabled people in the UK.
Mentoring support
Helen Grant also outlined details of new support being offered to help aspiring disabled candidates by providing coaching, mentoring and training, to help build their confidence, knowledge and skills. The programme will be delivered through the LGA's Be A Councillor campaign, that will be working closely with disabled groups such as Disability Rights UK, the 3 main political parties and advisors.
Further information
Published 3 February 2014