Cases of TB in domestic cats and cat-to-human transmission: risk to public very low
These are the first documented cases of cat-to-human transmission.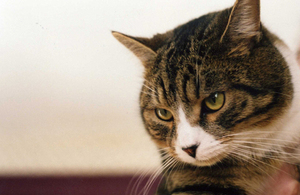 Two people in England have developed tuberculosis after contact with a domestic cat infected with 'Mycobacterium bovis' ('M. bovis'), Public Health England (PHE) and the Animal Health and Veterinary Laboratories Agency (AHVLA) have announced.''M. bovis' is the bacterium that causes tuberculosis (TB) in cattle (bovine TB) and in other species.
Nine cases of 'M. bovis' infection in domestic cats in Berkshire and Hampshire were investigated by AHVLA and PHE during 2013. PHE offered TB screening to 39 people identified as having had contact with the infected cats as a precautionary measure. 24 contacts accepted screening. Following further investigations, a total of 2 cases of active TB and 2 cases of latent TB were identified. Latent TB means they had been exposed to TB at some point but they did not have active disease. Both cases of active TB disease have confirmed infection with 'M. bovis' and are responding to treatment.
There have been no further cases of TB in cats reported in Berkshire or Hampshire since March 2013. PHE has assessed the risk of transmission of 'M. bovis' from cats to humans as being very low.
Dr Dilys Morgan, head of gastrointestinal, emerging and zoonotic diseases department at PHE, said:
It's important to remember that this was a very unusual cluster of TB in domestic cats. 'M. bovis' is still uncommon in cats - it mainly affects livestock animals. These are the first documented cases of cat-to-human transmission, and so although PHE has assessed the risk of people catching this infection from infected cats as being very low, we are recommending that household and close contacts of cats with confirmed 'M. bovis' infection should be assessed and receive public health advice.
The findings of the animal health aspects of this investigation are published in The Veterinary Record today, 27 March 2014.
Molecular analysis at AHVLA showed that 'M. bovis' isolated from the infected cats and the human cases with active TB infection were indistinguishable, which indicates transmission of the bacterium from an infected cat. In the other cases of latent TB infection, it is not possible to confirm whether these were caused by 'M. bovis' or the source of their exposure.
Transmission of 'M. bovis' from infected animals to humans can occur by inhaling or ingesting bacteria shed by the animal or through contamination of unprotected cuts in the skin while handling infected animals or their carcasses.
Professor Noel Smith, Head of the Bovine TB Genotyping Group at AHVLA, said:
Testing of nearby herds revealed a small number of infected cattle with the same strain of 'M. bovis' as the cats. However, direct contact of the cats with these cattle was unlikely considering their roaming ranges. The most likely source of infection is infected wildlife, but cat-to-cat transmission cannot be ruled out.
Cattle herds with confirmed cases of bovine TB in the area have all been placed under movement restrictions to prevent the spread of disease.
Local human and animal health professionals are remaining vigilant for the occurrence of any further cases of disease caused by 'M. bovis' in humans, cats or any other pet and livestock animal species.
Notes to editors
A summary of the public health investigation can be found in the PHE Health Protection report. Read the HAIRS risk assessment.

TB caused by 'M. bovis' is diagnosed in less than 40 people in the UK each year. The majority of cases are in people over 65 years old, most likely due to reactivation of latent infection acquired many years ago before the introduction of control measures, including the routine pasteurisation of milk. Overall, human TB caused by 'M. bovis' accounts for less than 1% of the total TB cases diagnosed in the UK every year. Those working closely with livestock, or regularly drinking unpasteurised (raw) milk have a greater risk of exposure.

Information about 'M. bovis' infection in humans is available on the PHE website.

Advice for pet owners about 'M. bovis' infections in companion animals is available on the AHVLA website.

The article 'An unusual cluster of Mycobacterium bovis infection in cats' will be published in The Veterinary Record today, 27 March 2014. Advice from the Chief Veterinary Officer Nigel Gibbens is being provided to vets in a letter to The Veterinary Record. This will include a recommendation that cats diagnosed with a 'Mycobacterium bovis' infection should be euthanised. This is due to the lack of effective drugs licensed in the UK for treatment of TB in animals and to minimise the risk of infection to other animals or humans.

Information about bovine TB is available on the Defra website.
PHE press office: National Infection Service
PHE press office, infectious diseases
61 Colindale Avenue
London
NW9 5EQ
Image by Marc d'Entremont on Flickr, used under Creative Commons.
Published 27 March 2014