Press release
Caroline Thomson appointed to the Board of the Shareholder Executive
The former BBC Chief Operating Officer Caroline Thomson has been appointed as a non-executive director to the Shareholder Executive.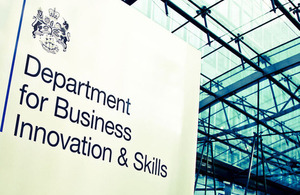 The former BBC Chief Operating Officer Caroline Thomson has been appointed as a non-executive director to the government's Shareholder Executive (ShEx).
This appointment will further enhance the knowledge and experience available to ShEx in its work as an effective shareholder of businesses owned by the government and securing best value for the taxpayer.
Caroline is also Chair of Digital UK, a position she has held since January 2013. Caroline will formally join the ShEx Board in November 2014.
Chair of the Shareholder Executive Robert Swannell said:
We are delighted that Caroline will be joining the Board of the Shareholder Executive. She brings a wealth of skills, from working on key commercial aspects of public service organisations and their relationships with government and regulators, which will be of great value to the Board.
Caroline Thomson said:
I am delighted to be joining the Board of the Shareholder Executive. It has a busy and exciting agenda and I look forward to contributing to its debates using my experience of running large scale public corporations and the public/private interface within them.
Notes to Editors
1.The Shareholder Executive (ShEx) is part of the Department for Business, Innovation and Skills (BIS). It is a unique and diverse group bringing together private sector commercial expertise and essential civil service skills. ShEx works flexibly and collaboratively across government to provide expert advice and a professional service.
ShEx manages the government's shareholder relationships with businesses owned or part-owned by the government. It also offers corporate finance expertise and advice to government departments to ensure the taxpayer gets best value from the assets it owns. Furthermore it works to deliver growth and to boost the economy in new and innovative ways – via entities such as the Green Investment Bank investing in green projects, or the British Business Bank helping finance markets to work better for smaller businesses.
2.Caroline Thomson was selected through an open and fair process after the position was advertised on the Cabinet Office Public Appointments website. Candidates were assessed on the quality of their written application, with successful candidates being invited to interview.
3.Biography:
Caroline Thomson has a mix of appointments in the arts and media worlds. She is Chair of Digital UK, the body which is responsible for digital terrestrial television, and a director of CN media group. In the arts world she is Executive Director of English National Ballet, Deputy Chair of the National Gallery and a trustee of Tullie House Gallery in Cumbria. She is also a non-executive director of one of the National Health Service regulatory bodies.
Caroline stepped down from her role as Chief Operating Officer at the BBC in September 2012 after serving 12 years as a member of the Executive Board.
As Chief Operating Officer she was the Deputy Director General and was responsible for all the non-programme parts of the BBC except finance. She managed technology, property, marketing, HR, legal, strategy, communications, health and safety, complaints and outreach - with operating budgets of £800 million, capital budgets of more than £1 billion and a staff of more than 3,000.
Caroline's initial training was as a broadcast journalist and in her twenties she was a producer on Radio 4 and for Panorama. She spent 11 years at Channel 4, first in charge of science and business programmes and latterly as Head of Corporate Affairs. She then returned to the BBC as Deputy Chief Executive of the World Service.
Caroline received an honorary doctorate from York University in 2013.
4.The ShEx Board normally meets 6 times a year, and on such other occasions as the Chair, in consultation with the Chief Executive Officer, deem appropriate.
5.ShEx 2014 Board Membership:
Non- Executive Chair
Non- Executive Directors

Claudia Arney
Sir Gerry Grimstone
Jeremy Pocklington
Robin Lawther
Caroline Thomson

Executive Directors

Mark Russell - Chief Executive
Anthony Odgers – Deputy Chief Executive & Director Corporate Finance Practice
Roger Lowe – Director, Portfolio
Ceri Smith – Director, Business Bank and Public Data Group
Published 30 October 2014