News story
Care and support minister encourages all hospitals to become dementia-friendly
Working with Dementia Action Alliance, the Department of Health is supporting a call for NHS trusts to make all hospitals dementia-friendly.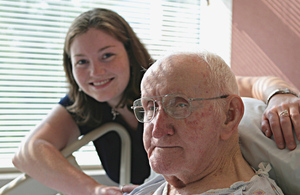 Over 140 NHS trusts have responded to the Call to Action, to become dementia friendly environments. More are expected to sign up this week in support of the Alzheimer's Society's Dementia Awareness Week.
Minister of State for Care and Support, Norman Lamb, said:
I am pleased to see that so many hospitals have committed to becoming dementia-friendly and I want to see all hospitals doing so.

I think it's incredibly important that we do everything we can to improve the care of the thousands of people in hospital with dementia, and the understanding of this debilitating condition.

There remains a lot more to be done. That is why I signed a joint letter with Sir David Nicholson and Professor Alistair Burns in March encouraging acute trusts to commit, and that is why, shortly afterwards, I personally signed and sent follow-up letters to all those trusts who hadn't yet done so.

We need to take action to make this right and the Call to Action is a positive step forward.
A quarter of hospital patients have dementia and it is vital they receive the right care and support.
Bradford Teaching Hospitals NHS Foundation Trust has committed to the Call to Action.
Bryan Miller, Chief Executive of the Trust, said:
We have achieved considerable success in improving the quality of care and the nature of the experience that patients with dementia and their carers receive, by working in collaboration with patients and carers and by recognising and valuing their experience and feedback.
Dementia friendly hospitals remain a major focus of the Prime Minister's Dementia Challenge. In its first annual report on progress, published last week, attention was drawn to the need for high quality, compassionate care in clinical environments. Last year, the Prime Minister announced new patient led assessment schemes in hospitals to identify and support more patients living with the condition.
You can find out more about the Call to Action, including a list of committed trusts on the Dementia Action Alliance website.
Published 24 May 2013