World news story
Canadian students use film to honour First World War heroes
'Our Shared Past' project highlights the gallantry displayed by Canadians during World War I.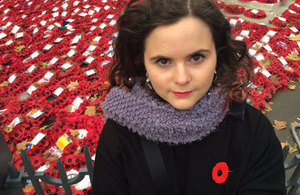 The British High Commission in Ottawa and British Council Canada are pleased to highlight 2 outstanding submissions by Canadians Brett Rideout and Caitlin Vanstone as part of the 'Our Shared Past' project.
To commemorate the centenary of the First World War, the British High Commission and British Council in Canada launched a special programme for students to submit visual arts entries that pay homage to Canadian recipients of the Victoria Cross during World War I.
Caitlin's short film honours John Francis Young.
Brett's video tells the story of Piper Richardson.
Our Shared Past: The Story of Piper Richardson
"My greatest discovery was how courageous the actions were of each and every winner of the Victoria Cross. I would go as far as to say that the hardest part of the project was simply choosing a single VC recipient to focus on as they are all heroes", said Brett.
The Victoria Cross is the highest British military award for gallantry, awarded for "most conspicuous bravery, a daring or pre-eminent act of valour, self-sacrifice or extreme devotion to duty in the presence of the enemy". In total, 70 Canadian servicemen were awarded the Victoria Cross during The Great War. The award is in the form of a bronze cross medal bearing the royal crest and the words "For Valour."
Caitlin, who lives in Vancouver, British Columbia, is currently visiting the UK and attended the Remembrance Sunday service in London. Brett, who lives in London, Ontario, will visit the UK in the coming months. During their trips both will also learn more about the UK's vibrant film industry.
"It will be a very touching experience to spend Remembrance Day in London", said Caitlin prior to leaving for the UK. "I am also looking forward to learning more about how the UK supports film makers and exploring parts of London like Notting Hill."
The project was open to all Canadian residents 18 years of age or older and was judged on creativity, originality, focus and overall quality.
Further information
Information on the WWI centenary and the Victoria Cross
Follow the British High Commission Ottawa on Twitter @UKinCanada Follow the Foreign Office on Facebook
Media enquiries
Trevor Kerr
80 Elgin Street
Ottawa Ontario K1P 5K7
Canada
Published 10 November 2015