Press release
Campaign warns people to 'Catch it. Bin it. Kill it' to stop the spread of flu
People are being urged to wash their hands regularly and throw used tissues away - 'Catch It. Bin It. Kill It' - in a bid to limit the spread of winter bugs, including norovirus and flu, Public Health Minister Anna Soubry announced today.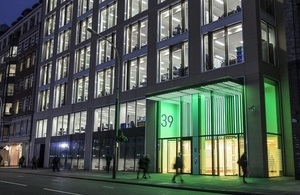 The campaign, which will run from 2 January, reminds people to practise good respiratory and hand hygiene which is a simple way to stop bugs spreading.
Radio and print adverts will run for three weeks and will encourage people to wash their hands, and use a tissue to catch a cough or sneeze and then bin it. This is a simple but effective way to reduce the spread of winter bugs.
Historically, flu rates go up in the winter and we know that high numbers of people are suffering from norovirus - latest figures show that there have been just over 3,000 reported cases of norovirus so far this winter.
Public health Minister Anna Soubry said:
"The NHS is experienced in dealing with the extra pressure the winter period can bring every year and is coping well so far this winter.
"To try to reduce the spread of flu and other winter bugs, we are launching the 'Catch It. Bin It. Kill It' campaign. It reminds us to wash our hands and throw away used tissues to prevent the spread of viruses.
"It's likely that we'll see an increase again when schools go back in the new year.  But we can all play a big part in limiting the spread of flu by taking these simple steps."
Chief Medical Officer Professor Dame Sally Davies said:
"If you are in one of the groups most at risk from flu, you are eleven times more likely to die if you get flu. The best way to protect yourself if you are in one of these groups is to get the vaccine - contact your GP to make an appointment if you have not already had the vaccine.
"To reduce the spread of flu I urge people to wash their hands regularly and to make sure they always 'Catch It. Bin It. Kill It' when they cough or sneeze."
Notes to Editors
You should have the seasonal flu vaccination if you fall into any of the following groups: 1. People aged 65 years or over 2. Pregnant women in any stage of pregnancy 3. people with a serious medical condition (see below) 4. People living in a residential or nursing home, or 5. the main carer for an older or disabled person.
Even if you feel healthy, you may still be at increased risk of seasonal flu. The free seasonal flu vaccination is recommended if you have:
a heart problem
a chest complaint or breathing difficulties including, bronchitis, emphysema
a kidney disease
lowered immunity due to disease or treatment (such as steroid medication or cancer treatment)
a liver disease
had a stroke or a transient ischaemic attack (TIA)
diabetes
a neurological condition e.g. multiple sclerosis (MS) or cerebral palsy
a problem with, or removal of, your spleen e.g. sickle cell disease.
People in at risk groups should have been contacted by their GP. They should make an appointment with their GP as soon as possible to be vaccinated if they haven't already had the vaccine this year.
Published 27 December 2012