Press release
Cable outlines agenda for growth
At the Mansion House speech Vince Cable outlines the importance of putting growth at the heart of the government's work.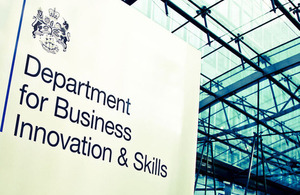 Speaking to the City of London at Mansion House on Thursday 3 March, Secretary of State Vince Cable outlined the government's work in growing the economy.
He expressed frustration about assumptions that the government can guarantee an immediate return to rapid growth, and said there is no cookery book recipe for growth.
"Our central task- and mine in particular - is to strengthen a framework in which the private sector can grow the economy out of its current problems, he said.
He encapsulated the government's approach as: "Vigorous, targeted action where the government can make a difference; combined with robust and unsentimental withdrawal from unnecessary interference."
He set out key areas that underlie his vision for the economy, including:
"But a growing economy isn't just about government getting out of the way," he said. "Government has a major role even when slimmer and less intrusive."
This role includes include ensuring longer term clarity to aid infrastructure provision, and investing in skills and cutting edge innovation.
Referring to the ongoing Growth Review he said the government had turned down the easy option of putting out yet another paper about growth in favour of a "rigorous and challenging" exercise.
"It has challenged every department to get behind the growth agenda, critically examining every policy that might get in the way or hold back our vision for private sector recovery," he said.
The Growth Review will continue for the duration of the parliament, he promised.
Government action to save small firms £40 million
Vince Cable announced on Friday 4 March that small firms will no longer need independently audited accounts, saving 42,000 businesses £40 million per year.
The Business Secretary outlined changes to regulation in one area which is a massive burden to business - producing accounts. Small businesses in particular often suffer the most under the burden of bureaucracy.
The government recognises the need for high standards in audit and accounting. But some areas could do with reform so the following action is being taken:
small company audit and account rules are stricter in the UK than is required by EU law.
for smaller businesses (with less than 10 employees) government will push for exemptions to remove the requirement to produce two sets of accounts.
for medium sized businesses Government will push for EU restrictions to be lifted so that they no longer need their account independently audited.
the government will look at relaxing the audit and accounts rules for subsidiaries.
The changes would mean small companies would produce just one simplified set of accounts and save £400 million for some of the smallest businesses in the country - roughly 2 million of them will be able to concentrate on growing, expanding and creating jobs.
Published 4 March 2011