News story
Cable launches biggest ever Apprenticeship Week
The week is on track to be the biggest Apprenticeship Week to-date, with over 500 events across the country celebrating the countless achievements…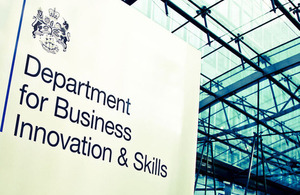 The week is on track to be the biggest Apprenticeship Week to-date, with over 500 events across the country celebrating the countless achievements of learners and employers.
The official launch event, held at Channel 4 in London, will be** **attended by apprentices and representatives from the creative industries.
Skillset (the sector skills council for the creative industries) in partnership with the National Apprenticeships Service (NAS), and supported by the Government, have pledged to work with 300 businesses in industries such as fashion, media and design to deliver 500 apprenticeships. The first places are set to be offered in September 2012.
Many of these businesses are small firms who from next week will be able to apply for an incentive payment of £1,500 to take on their first apprentice in 2012/13. This scheme was announced by the Government in November last year.
Vince Cable said:
"I am very proud of the fact that at a time of financial constraint this Government has prioritised investment in apprenticeships. This has led to the creation of record numbers of apprenticeships combined with tough new standards to drive up quality.
"Apprenticeships are at the centre of the Government's skills policy because we know that they work. Not only do they provide individuals with the skills they need for prosperous and rewarding careers, they also boost businesses' profits and drive growth in the wider economy.
"I'm pleased that the creative industries recognise this and we support all the work they are doing to increase the number of apprenticeships in the sector, particularly in small businesses.
"We are providing extra help to enable small employers to hire their first apprentices. We will also continue to develop new advanced and higher-level apprenticeships to deliver the world-class skills individuals and firms need to get ahead."
Chief executive of Channel Four and Skillset board member, David Abraham, said:
"Apprenticeships are a fantastic and innovative way for creative employers to develop the fresh talent they need to continue driving growth, while at the same time improving diversity and fair access to our industries.
"As endorsed by the Creative Industries Council just last month, now is the time for the whole sector to embrace apprenticeships as a key entry route to our industries, helping to address our business needs. That is why we so warmly welcome the partnership between Skillset and NAS to drive this work forward."
Apprenticeship Week is supported by a huge range of organisations including: employers, apprentices, media, business and sector organisations, learning providers, colleges and schools.
The scale of Apprenticeship Week reflects the dramatic rise in the number of businesses that are taking on apprentices. Official statistics released last week show that there were 457,200 apprenticeships starts in 2010/11 - an increase of 63.5 per cent on 2009/10. This growth was spread across all regions and sectors.
Notes to editors:
To attend the launch of the National Apprenticeship Week or submit an interview request please contact the Department for Business press office.

Visit www.apprenticeships.org.uk to find out more about Apprenticeships Week and how you can get involved.

BIS's online newsroom contains the latest press notices, speeches, as well as video and images for download. It also features an up to date list of BIS press office contacts. See http://www.bis.gov.uk/newsroom for more information.
Notes to Editors
Contact Information
Name BIS Press Office Job Title
Division COI Phone
Fax
Mobile
Email NDS.BIS@coi.gsi.gov.uk
Name Katie Kilgallen Job Title
Division Department for Business, Innovation & Skills Phone 020 7215 1861 Fax
Mobile
Published 6 February 2012