Press release
Cabinet Office to take on responsibility for cross-government youth policy
Cross-government responsibilities for youth strategy and policy will move from the Department for Education to the Cabinet Office.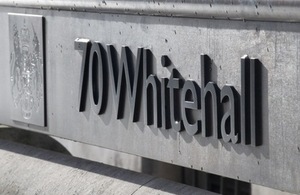 The government is putting young people at the heart of policy-making by asking the Cabinet Office to lead the next phase of cross-government youth policy, it was announced today.
The government is keen to drive forward its ambitious youth agenda in which civil society, local and national government support young people to realise their potential and have the supportive relationships, skills and ambitions they need to succeed.
Today's announcement means responsibility for youth strategy and policy will move from the Department for Education to the Cabinet Office and be led by Nick Hurd, the Minister for Civil Society.
Cabinet Office's new responsibilities will include the statutory duty on local authorities for youth provision in their areas and strategic dialogue with young people and youth sector organisations on youth policy.
This fits with its existing support to young people, including its role coordinating business across government, new models of public service delivery, and encouraging more active citizenship. For example Cabinet Office already has responsibility for National Citizen Service, a unique programme for 16 and 17-year-olds, which focuses on young people taking on new challenges and adventures, learning new skills and contributing to their community.
Minister for Civil Society Nick Hurd said:
Our teenagers are growing up in a more competitive world. It is in everyone's interest that they achieve their full potential. So this is a really important time for the country to get behind them. The Cabinet Office is well placed to help government, business and the voluntary sector to work together more effectively in that cause. It will require people to think in different ways but we are well up for the challenge.
The government has also published a progress report on 'Positive for Youth' – setting out the progress it has made in placing young people at the heart of decision-making.
The report finds that since the launch of Positive for Youth in December 2011, young people feel a greater sense of ownership, helping make youth services more effective and creating a stronger sense of belonging. The report also shows more young people are participating in youth councils and cabinets, and are playing a greater role in the development of policies.
Edward Timpson, Minister for Children and Families, said:
Positive for Youth set out an ambitious vision for encouraging the whole of government and society to support young people in realising their potential.

Today's report shows that over the last 18 months, councils and local and national agencies across the country have been opening the doors to young people and getting them involved, listening to their ideas on how to improve things. The government will continue to lead by example – improving the way in which we work with young people and giving them give them the tools they need to make a difference.
The Department for Education will maintain its commitment to young people with its responsibilities for education and children's services in England, and other departments will maintain their policy responsibilities.
Government priorities for the coming months include:
increasing social action and building character skills – for example through continued expansion of National Citizen Service and support the campaign for Youth Social Action
promoting young people's participation – working with youth sector partners to help shape policies across government to better meet the needs of young people
overseeing and championing the transformation of local youth service provision and promoting new models of provision
Notes to editors
The transfer has been announced to Parliament by a Written Ministerial Statement laid today by the Prime Minister.
The Positive for Youth – Progress since December 2011 report is available here and the original Positive for Youth strategy is available here.
Further information about Department for Education work with and for young people is available here.
The Campaign for Youth Social Action is a strategic initiative that aims to transform our society by encouraging, recognising and valuing the contribution young people make, and supporting those who can galvanise a new culture of participation. The campaign goal is to double the number of young people engaged in social action to over 50% by 2020 – an additional 1.7 million young people.
NCS (National Citizen Service) is a once in a lifetime opportunity open to all 16 and 17 year olds across England. It is a unique three-week full-time programme, plus 30 hours committed to a community project, focused on fun and discovery that benefits both young people and society. Participants build skills for work and life, while taking on new challenges and adventures, learning new skills, making new friends and contributing to their community.
Across the public sector thousands of frontline staff are forming mutuals and taking control of the services they deliver. Already, 70 organisations are delivering over a billion pounds worth of public services and many more are developing. The Cabinet Office is supporting public servants who want to explore the potential to mutualise their services with a £10 million fund and advice is available through the Mutuals Information Service.
Published 3 July 2013