News story
Cabinet Office supports search for the best public service mutual
The Cabinet Office is endorsing the Philip Baxendale Awards' Public Service Mutual of the Year prize for the third year running.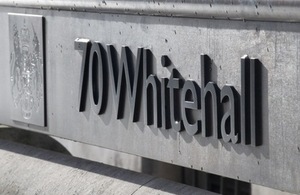 This award celebrates the most impressive group of former public sector workers who have 'spun out' their work into an employee-led mutual organisation that provides exemplary public services.
Nominations for the award are now open. Nominees will be judged on how they have improved their services to improve outcomes for citizens.
The Philip Baxendale Awards are the UK's only dedicated celebration of excellence in employee ownership. They are co-hosted by the Employee Ownership Association and Baxendale, an employee-owned partnership founded by Philip Baxendale that provides advice and investment to mutual businesses.
With 100 public service mutuals that provide nearly £1.5 billion of public services, this year's public service mutual award will be hotly contested.
Cabinet Office Minister Francis Maude said:
Right across the country, public sector staff are taking control of the services they know best – with 100 public service mutuals now live and trading across England.

As part of our long term plan for a stronger economy we are determined to drive up public sector productivity, which flatlined from 1997 to 2010. We need innovative new ways of delivering better services for less money, so we are helping public sector workers spin out to form mutuals.

I am pleased to support the Baxendale Awards again this year which celebrate the remarkable achievements of hard-working public service mutuals.
The deadline for nominations is 1pm on Thursday 11 September 2014. The awards are free to enter. In addition to Public Service Mutual of the Year, 6 other award categories cover the positive outcomes often seen in mutual ownership, including employee engagement and innovation. These awards are open to all mutual organisations.
The awards will be judged by a panel of employee ownership experts from across the public and private sectors. The awards ceremony will take place at the 2014 Employee Ownership Association Annual Conference gala dinner on 17 November, at the East Midlands Conference Centre, Nottingham.
Published 7 August 2014