Cabinet Office and Oracle sign deal to save £75 million for taxpayers
The Cabinet Office and Oracle have signed a new deal that will deliver in excess of £75 million in savings by 2015.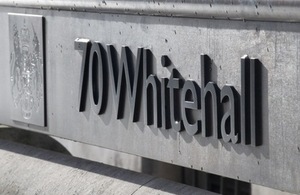 The Cabinet Office and Oracle have signed a new deal that will deliver in excess of £75 million in savings by 2015, the Minister for the Cabinet Office, Francis Maude, announced today (28 March 2012). Oracle is one of the government's largest IT suppliers and works with almost every department and agency across government.
The key aspects of the deal include:
A single discount. In the past, different parts of government have brought software from Oracle on different terms and at different discounts. Today's deal will mean that the government acts as a single, intelligent client, with all departments buying software using the same discount rate.
Licence sharing. Software licences can be re-used across departments rather than each department having to buy licences that the government already owns.
Bulk buying. The government can maximise its buying power and buy in bulk as a single customer.
Shared services savings. Savings from the government's spend on back office (so called "shared services", such as HR and payroll) through reduced requirement for software upgrades.
Taken together, these measures will deliver efficiencies that will result in savings in excess of £75 million for taxpayers by 2015 from just this one deal, releasing funds to support the delivery of frontline services.
Oracle's President and Chief Financial Officer, Safra Catz, said:
The relationship with the UK government has always been very special to Oracle. We are honoured to support its initiatives and to stand together in meeting the changing IT needs of the 21st Century.
Francis Maude said:
This deal ensures better IT for government and savings for the taxpayer.

The days of the government paying different prices for the same goods or services are over - we will no longer sign inflexible contracts that tie the taxpayer into unfavourable terms.

We are pleased to have made these savings with Oracle and expect more deals with other suppliers to follow.
Oracle has offered a single discount based on the strategic importance of the government and the nature of the ongoing relationship. It delivers greater value for the UK taxpayer while providing the government with technologies to build a robust and agile 21st century IT platform.
Government Chief Procurement Officer John Collington said:
Oracle has been a long-standing and important partner to government and I am delighted that we have secured this agreement, which will generate substantial savings for the taxpayer - it is fundamental to delivering the government's IT strategy.
The simplification of the relationship will ultimately drive economic benefits throughout the government estate, allow easier and more effective procurement of Oracle products and services. It will open up a new and collaborative relationship between the government and Oracle.
In response to the government's call for better capability, Oracle will also establish a centre of excellence where government's investment in its Oracle estate will be maximised by leveraging expert resources. This will be aligned to the government's IT strategy, ensuring the delivery of this important programme across government.
The government has put in place policies to transform its approach to doing business, including greater transparency over potential public sector business, a level playing field for small businesses, better long-term partnerships with government and more simplicity in public sector procurement. Last year's contract renegotiations delivered £800 million of savings across suppliers and a further £140 million will be delivered in total this year. The government has a radical programme of reforms to eradicate waste from Whitehall. This programme delivered unprecedented savings - £3.75 billion in 2010 to 2011, and is now on target to deliver a further £5 billion in 2011 to 2012.
Notes to Editors
Earlier this month the government announced a deal with Capgemini to deliver £200 million in savings from IT. 

About Cabinet Office efficiency agenda:
Tight controls on spending and a business like approach to government have led to cash savings of £3.75 billion from May 2010 to April 2011 and the government anticipates a further £5 billion in savings this financial year. See:
Published 28 March 2012