Press release
Cabinet Office and Capgemini agree deal to help deliver over £200 million in savings to taxpayers
A new deal with one of the government's biggest IT services suppliers, Capgemini, will help lead to savings of more than £200m.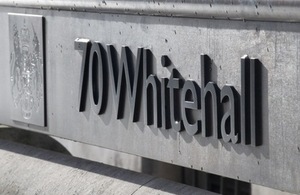 CAB 017-12    
A new deal with one of the ogvernment's biggest IT services suppliers, Capgemini, will help lead to savings over £200 million, the Minister for the Cabinet Office, Francis Maude, announced today.
The agreement is the latest in a series of unprecedented and ambitious contract renegotiations with large suppliers that will secure more flexible contracts and better deals and prices for taxpayers.
Speaking at the annual procurement conference, Procurex, in Birmingham, Francis Maude also confirmed that overall spending on goods and services across central government is predicted to reduce by £8 billion over the two years from 2009/10 to 2011/12.
Speaking at the conference in Birmingham today, Francis Maude said:
We said Government would operate more like a good business and that is what we are seeing today.  Our message to industry is that we will keep driving to get better value for taxpayers, break up large contracts and create opportunities for new, smaller companies to enter the market.

Last year's contract renegotiations saved £800 million across suppliers and a further £140 million will be delivered this year - overall we will spend £8 billion less than two years ago on goods and services, but more of this will be with smaller firms.

We are pleased we have been able to work with Capgemini to save the taxpayer money and support SMEs, and will continue to work with other suppliers in a similar way.
The savings agreed with Capgemini relate to a contract called Aspire that is held with HMRC and provides IT services including desktops, laptops and many crucial tax and credit systems such as online VAT filing. The new deal will help deliver savings in excess of £200 million by 2017 by:
Cost savings: £200 million saved by paying less per unit of IT services provided;
More freedom: HMRC will now have more control to run open competitions for its IT needs, enabling more opportunities for innovative SME suppliers and greater control over the volume of work going through the contract; and
Greater transparency - transparency in pricing is enhanced further to assist with value for money comparisons.
The negotiations have also given Capgemini the opportunity to adapt its services and delivery model to align much more closely with the Government's ICT strategy and its drive for a more competitive IT market place.
Christine Hodgson, UK Chairman, Capgemini said:
This agreement confirms Capgemini as HMRC's System and Service  Integrator through to 2017. It also reaffirms our position as a key partner to  the Government, and underlines our commitment to the UK public sector  overall.
The Government has put in place policies to transform its approach to doing business, including greater transparency over potential public sector business, a fairer playing field for small businesses, better long term partnerships with government and more simplicity in public sector procurement. The Government has a radical programme of reforms to eradicate waste from Whitehall.  This programme delivered unprecedented savings - £3.75bn in 2010/11, and is now on target to deliver a further £5bn in 2011/12.
The experience gained by HMRC from this deal will now be shared across Government to help other departments benefit in their own supplier negotiations.
Notes to Editors
1. **About the supplier renegotiations and Crown Representative network **
Working with the Minister of the Cabinet Office, The HMRC team of CIO Phil Pavitt, Finance Director Louise McCarthy and Deputy CIO Mark Hall led negotiations with Bill Crothers, the Crown Representative, on this deal.  The negotiations with the IT supplier, Capgemini, will help deliver significant savings for HMRC and a significant restructure of the current contract, leading to a more diverse supply chain, with transparent pricing, allowing Government to act as a truly intelligent customer.
2. About Cabinet Office efficiency agenda
Tight controls on spending and a business like approach to Government have led to cash savings of £3.75 billion from May 2010 to April 2011 and the Government anticipates a further £5 billion in savings this financial year. See:
3. About Aspire
Aspire is HMRC's IT services contract with Capgemini which is a collaboration of major providers and an ecosystem of around 360 partners, including over 150 SMEs
4. About Capgemini
With around 120,000 people in 40 countries, Capgemini is one of the world's foremost providers of consulting, technology and outsourcing services. The Group reported 2011 global revenues of EUR 9.7 billion. Together with its clients, Capgemini creates and delivers business and technology solutions that fit their needs and drive the results they want. A deeply multicultural organisation, Capgemini has developed its own way of working, the Collaborative Business ExperienceTM, and draws on Rightshore®, its worldwide delivery model.
Capgemini is helping the Government achieve its ambition to double spending with small business. Capgemini has a strong track record in working with SMEs having established an ecosystem of small businesses that work alongside the company and its alliance partners to improve public services. Capgemini is one of the first companies to sign up to Contracts Finder, the Government's searchable and transparent website for subcontracting opportunities. Capgemini is committed to support SMEs and help stimulate and sustain the UK economy by seeking innovation, developing skills and creating jobs.
Published 14 March 2012