Press release
CAA airspace director reappointed
Mark Swan reappointed as a member of the Civil Aviation Authority.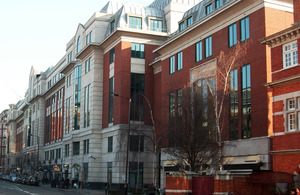 Transport Secretary Patrick McLoughlin and Defence Secretary Philip Hammond have reappointed Mark Swan as a member of the Civil Aviation Authority (CAA) for a second 4-year term.
Mark Swan was originally appointed to the CAA as Director of Airspace Policy in March 2009 after a career in the Royal Air Force. He will continue in his current role, in which he is responsible for enabling the safe, efficient and sustainable use of UK airspace and its supporting infrastructure. This is a full-time position to which he has been reappointed at his existing salary of £151,500 per annum.
Announcing his decision, Transport Secretary Patrick McLoughlin said:
I am very pleased to confirm this reappointment, which recognises the important contribution Mark Swan has made to ensuring the CAA remains an effective, reforming regulator in these challenging times for the aviation sector.
Notes to editors
The Civil Aviation Authority is responsible for the regulation of civil aviation in the United Kingdom and is the government's principal advisor on aviation matters. It has specific responsibility for aviation safety, consumer protection, airspace policy and the economic regulation of the industry. It is based mainly in London and Gatwick and has approximately 950 employees. The great majority of the CAA's funding comes from the charges it imposes on the industry, rather than the taxpayer.
Mark Swan was originally appointed following an open competition. His appointment was made on merit and political activity played no part in the selection process. He has declared that he has undertaken no relevant political activity during the past 5 years and holds no other current public appointments.
Under measures contained in the Civil Aviation Act 2012, the CAA will be able to appoint its own executive members, including the Director of Airspace Policy – the position held by Mark Swan. Responsibility for appointing its chair and non-executive members will remain with the Secretary of State. The act has received Royal Assent in December and these powers will come into force in the coming months.
Aviation and maritime media enquiries
Press enquiries 020 7944 3021
Out of hours 020 7944 4292
Switchboard 0300 330 3000
Published 24 January 2013