News story
Buy Better Together Challenge
Better shopping deals for the consumer gets a boost as the winner of the UK Buy Better Together Challenge is announced.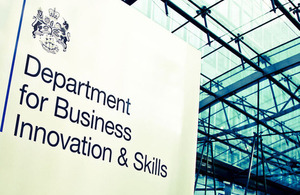 The 'Smarterbuys' scheme, which helps provide affordable loans to disadvantaged people so that they can buy essential goods, has scooped the £15,000 Buy Better Together Challenge prize, presented by Consumer Affairs Minister Jo Swinson.
The challenge was launched by Department of Business, Innovation & Skills (BIS) and Co-operatives UK in December 2011 to encourage groups of consumers to get together and negotiate discounted rates for buying goods and services in bulk. The challenge received 110 entries, which were whittled down by a panel of independent judges to seven finalists.
'Fair Food Carlisle' was awarded the runner-up prize for their scheme which uses buying groups to provide workplaces with a weekly supply of food from local businesses, winning £5,000 which will be invested in improving business processes and hiring staff.
At the event Jo Swinson said:
"The Buy Better Together Challenge has highlighted hundreds of fantastic ideas and examples from local communities, who banded together to make their money work harder.
"Collective purchasing is of immense value to groups, not just to make cost savings, but to increase social links in the community and reach out to vulnerable consumers who may not have access to online research or internet shopping.
"The schemes we have heard about today aren't just benefitting consumers though; businesses have seen first-hand how they can gain more customers by working with these groups and communities, often beating competitors in the process. Many congratulations are due to the organisers of 'Smarterbuys', which is a positive example of how collective purchasing can challenge existing markets and provide better results.
"And I also congratulate 'Fair Food Carlisle' in supporting local produce growers and taking an innovative approach to boosting their local food economy. These schemes are a clear example of what can be done when consumers are empowered and work together to get better deals."
Links
Published 28 November 2012