Press release
Business Secretary visits Sweden and Finland to strengthen trade and investment partnership
Business Secretary Vince Cable begins a visit to Sweden and Finland today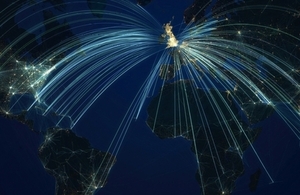 Business Secretary to promote the Transatlantic Trade and Investment Partnership (TTIP) and the UK's Information Economy Industrial Strategy

Secretary of State will witness 2 UK businesses signing contracts for the world's largest hospital build and servicing project worth £30 million, creating or safeguarding 95 jobs
Business Secretary Vince Cable begins a visit to Sweden and Finland today.
During his 4 day trip, the Business Secretary will visit Swedish and Finnish companies investing in the UK including Skanska, a Swedish construction company and UPM, a Finnish paper making and energy company which has made approximately £750 million worth of investments in the UK. He will also meet UK companies which are successfully growing their businesses overseas in the Nordic markets including TelecityGroup in Helsinki.
The Business Secretary will reaffirm the UK's commitment to driving progress on the negotiations for a Free Trade Agreement between Europe and the US during visits to Stockholm and Helsinki.
During the visit Vince Cable will meet with Swedish and Finnish Ministers and representatives from business and industry to discuss opportunities for the UK and the Nordics countries to further increase cooperation, business and trade.
In a specific boost for the construction sector, he will attend a ceremony at the site of the New Karolinska Hospital in Stockholm, the world's largest hospital build and servicing project. The ceremony will mark the signature by two UK small and medium sized businesses (SMEs), Astins and Measom, of construction contracts valued at £30 million.
In Helsinki, Vince Cable will officially open the Telecity Data Centre. Telecity was founded in Manchester in 1998 and is headquartered in London, where it has eight data centres, and has over 30 sites in total across Europe.
Business Secretary Vince Cable said:
Growth remains the UK's top priority, as it does for both Sweden and Finland and this will be the focus of my trip.

The UK is committed to creating growth for the whole of the EU through a liberal, outward-facing Europe and counts on Sweden and Finland as like-minded nations, strong advocates of free trade and valued trading partners.

Crucial to our future success will be the Transatlantic Trade and Investment Partnership which will be central to our discussions. It has the potential to bring as much as £100 billion to the EU economy, £80 billion to the US economy and £85 billion to the rest of the world.
In Stockholm, the Business Secretary will:
attend a UKTI Waste-to-Energy event for UK SMEs to explore commercial opportunities with Swedish companies Vattenfall, Fortum and E.ON
attend a seminar to discuss Swedish and UK perspectives on growth prospects
meet with the Swedish Confederation of Industry to discuss UK experiences of responding to the growth challenge
visit the New Karolina Hospital and witness two new contracts won by UK SME's worth £30 million in total
meet with Swedish Ministers
In Helsinki, the Business Secretary will:
attend a TTIP-seminar with the European Commission and US Embassy
attend a business breakfast with the Finnish-British Trade Association
officially open the Telecity Data Centre
visit Nokia's headquarters
meet with Finnish Ministers
Notes to Editors
1.Sweden:
Trading links go back centuries and are strong. In 2012, Sweden was the UK's 13 largest export market and the UK is Sweden's 4th largest supplier (both goods and services).
Major UK exports to Sweden: road vehicles, petroleum products, medical and pharmaceutical products.
Major UK imports from Sweden: paper, board and pulp, telecommunications equipment, pharmaceutical, road vehicles, fuel, wood, iron and steel and general industrial machinery.
The UK is the 4th largest market for Swedish FDI, behind the US, Finland and the Netherlands, with a value of SEK185 billion (£18 billion). It compares favourably to Germany (SEK125 billion/ £12 billion) and France (SEK43 billion / £4 billion).
Almost all of Sweden's world-class companies have invested in Britain. There are a total of 560 Swedish firms in the UK and during the period 2006-07 to 2011-12, UKTI recorded 219 new FDI projects from Sweden into the UK.
There are over 1,300 UK-owned firms in Sweden
Historically, Skanska, Ericsson, Volvo, H&M and SCA have been Sweden's five main investors (with regards to revenue) in the UK over the last few years.
2.Finland:
Total exports in goods and services from the UK to Finland totalled £2.79 billion in 2012.
Finland is the UK's 27th largest export market and the UK is Finland's 8th largest import market.
Top exports from the UK to Finland: road vehicles, machinery, iron, steel and non-ferrous metals, telecommunications and sound recording systems and medicinal and pharmaceutical products.
Total imports from Finland to the UK amounted to £2.64 billion in 2012. The UK is Finland's 5th largest export market and Finland is the UK's 32nd largest import market.
Top imports from Finland to the UK: Paper, wood, pulp and waste paper manufactures, transport equipment, including road vehicles, machinery, iron, steel and non-ferrous metals, petroleum products, telecommunications and sound recording equipments.
New Finnish FDI into the UK in 2010 amounted to £739 million and has remained steady since 2002.
Finnish businesses had 169 affiliates in the UK (2010), and the affiliates employed nearly 17,000 people, generated a turnover of over £5bn (unconsolidated) and were responsible for approximately 16% of the new Finnish FDI into the UK in 2010.
During the period 2006/07 to 2011/12, UKTI recorded 73 new FDI projects from Finland into the UK.
Some of the key Finnish investors into the UK are:
Nokia (telecommunications)
UPM-Kymmene (paper, pulp and bio energy)
Wärtsilä (ship power solutions and power plants)
KONE Corporation (lifts and escalators)
Kemira Chemicals
Cargotec (logistics and cargo handling)
Orion Pharmaceuticals
Raisio (food industry)
3.The UK's ICT sector is the largest in Europe, and is expected to grow to over £29 billion by 2012. The UK government is currently promoting two exciting ICT projects, Broadband Delivery UK (BDUK) and Tech City. As Sweden has a very strong ICT sector we are looking to match Swedish expertise with UK demand.
4.We want to make the UK the best place to start and grow a business. In the autumn the government will launch a public campaign to celebrate GREAT British business success stories. We want to inspire other small businesses and point them towards the support that can help them grow. We will also launch a new strategy for how the whole of government will back them. This will set out a range of measures to continue helping budding entrepreneurs and existing businesses succeed.
5.In the 2012 Autumn Statement, UKTI was awarded an additional £70 million for each of 2013 to 2014 and 2014 to 2015, enabling the recruitment of more international trade advisers around the country, expansion of existing services including the Trade Access Programme (TAP) and the Overseas Market Introduction Service (OMIS), and support to expand the range of assistance available to UK companies through overseas British chambers of commerce.
6.The government's economic policy objective is to achieve 'strong, sustainable and balanced growth that is more evenly shared across the country and between industries'. It set 4 ambitions in the 'Plan for Growth', published at Budget 2011:
to create the most competitive tax system in the G20
to make the UK the best place in Europe to start, finance and grow a business
to encourage investment and exports as a route to a more balanced economy
to create a more educated workforce that is the most flexible in Europe
Work is underway across government to achieve these ambitions, including progress on more than 250 measures as part of the Growth Review. Developing an Industrial Strategy gives new impetus to this work by providing businesses, investors and the public with more clarity about the long-term direction in which the government wants the economy to travel.
7.UK Trade & Investment (UKTI) is the government department that helps UK-based companies succeed in the global economy. We also help overseas companies bring their high quality investment to the UK's economy – acknowledged as Europe's best place from which to succeed in global business. UKTI offers expertise and contacts through its extensive network of specialists in the UK, and in British embassies and other diplomatic offices around the world. We provide companies with the tools they require to be competitive on the world stage. For more information on UKTI, visit www.ukti.gov.uk or visit the online newsroom at www.ukti.gov.uk/media.
Published 23 September 2013