Press release
Business Secretary celebrates record applications for UK higher education
Vince Cable visits Kingston University in Surrey to celebrate the record demand for higher education from across the UK and overseas.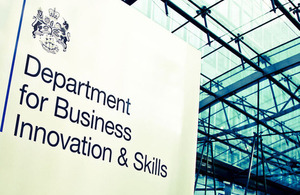 UCAS reveal a record number of applications for full-time undergraduate higher education in 2015 to 2016
the rate of disadvantaged students applying to study higher education hits an all-time high
Business Secretary Vince Cable will today (30 January 2015) visit Kingston University in Surrey to celebrate the record demand for higher education from across the UK and overseas, with applications from the most disadvantaged students at an all-time high.
Data published today by Universities and Colleges Admissions Service (UCAS) shows that the number of applications to full-time undergraduate courses at university and higher education institutions for 2015 to 2016 increased by 2% compared to the same point last year. UCAS also confirmed that the application rate from students in England from the most disadvantaged backgrounds increased from 18% in 2010 to 21% this year.
A key objective of the government's 2012 reforms was to widen participation and ensure that any student wishing to continue their studies could access higher education, regardless of their background. Today's data provides further evidence that this approach is working.
Speaking at Kingston University, Vince Cable, Business Secretary will say:
Today's record figures are good news and demonstrate the significant headway we have made to break down barriers to higher education. There were many who said that the reform of student finance would discourage young people from going to university. The exact opposite has occurred: numbers have grown, in particular those from disadvantaged backgrounds. At the same time we have expanded vocational training, particularly apprenticeships which have reached 2 million under this parliament. Our reforms now also mean our world-leading universities are well funded for the future. This is a record to be celebrated.
Greg Clark, Universities, Science and Cities Minister said:
University is a life-changing experience. A degree from the UK is an excellent investment and our reforms are helping more people than ever go to university, including those from disadvantaged backgrounds. Today's record figures show that people understand the value of higher education – helping them on the path to a rewarding and successful career.
Today's record-breaking news follows recent confirmation that a record half a million full-time undergraduate students started higher education this academic year (2014 to 2015), with the level of students entering from disadvantaged backgrounds also reaching an all-time high. The entry rate for the most disadvantaged students rose to 18.2%, up from 14% in 2010.
The UCAS statistics also show that the UK's international reputation in higher education continues to grow with applications from EU students (excluding the UK) and non-EU students increasing by 7% and 3% respectively compared to last year.
On the visit, Vice Chancellor of Kingston University Professor Julius Weinberg will lead a tour of the university's state-of-the-art life science, biotechnology and IT facilities and will introduce the Business Secretary to current undergraduates on a range of science, technology, engineering and maths courses.
Notes to editors:
In July 2013 the government published the International Education Strategy as part of the UK government's Industrial Strategy. The Strategy sets out the UK's ambition for international education engagement to strengthen partnerships with our overseas counterparts.
UCAS statistics can be found at: www.ucas.com
Published 30 January 2015