Press release
Business-friendly regulation scheme extended
New plans to extend the Primary Authority scheme means firms will benefit from more consistent enforcement of regulation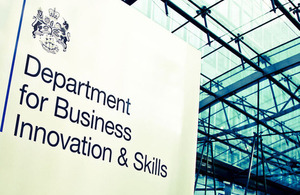 Hundreds of firms will benefit from more consistent enforcement of regulation and clearer advice on how to comply with the law under new plans to extend the Primary Authority scheme.
Following a consultation with business and regulators, Business and Energy Minister Michael Fallon has confirmed that the government will legislate to extend Primary Authority to the following sectors:
the age-restricted sale of gambling;
the Housing Health and Safety Rating System;
sunbed tanning; and
Welsh regulations on single use carrier bag charging.
Under Primary Authority, firms forge partnerships with a single local council to ensure that regulation is consistently applied across local authority boundaries. These partnerships also help business comply with regulations by issuing assured advice, co-ordinating any enforcement action, and developing clear and practical inspection plans.
Business and Energy Minister Michael Fallon said:
Regulation must maintain high standards and a level playing field, but it must never impede the growth and investment plans of law-abiding businesses. By eliminating unnecessary bureaucracy, Primary Authority puts the needs of business at the heart of local enforcement, saving firms time and money. This is an important part of the government's ambitious drive for enterprise-friendly regulation.
The extension of Primary Authority is part of a wider government commitment to end the culture of 'tick box' regulation, and to develop a new culture of enforcement that upholds the highest standards without burdening firms with unnecessary bureaucracy.
There are currently 2,295 Primary Authority Partnerships covering 100 local authorities, benefiting 703 businesses. The Better Regulation Delivery Office, which administers the Primary Authority scheme, will provide guidance for businesses and local authorities on how to implement the extensions.
Notes to editors:
1.Primary Authority assists businesses in complying with regulation enforced by local authorities. It enables them to receive assured advice, and allows for the coordination of proactive inspection activity across local authorities.
2.The consultation, Extending the Range of Regulations Covered by Primary Authority, published in December 2012, sought views on implementing the extension of Primary Authority to include the age-restricted sale of gambling. Additionally, government consulted on whether to include the following within Primary Authority:
the Housing Health and Safety Rating System;
sunbed tanning; and
Welsh regulations on carrier bag charging.
62 responses to the consultation were received from a variety of organisations.
3.The government also proposes to extend Primary Authority to small firms that follow advice from business organisations such as trade associations. The ERR Bill currently before Parliament contains proposals that would allow trade associations or franchisors to work with a single local authority in a Primary Authority partnership, providing their members with assured advice on how to comply with regulation.
4.The government's economic policy objective is to achieve 'strong, sustainable and balanced growth that is more evenly shared across the country and between industries'. It set four ambitions in the 'Plan for Growth' (PDF 1.7MB), published at Budget 2011:
to create the most competitive tax system in the G20
to make the UK the best place in Europe to start, finance and grow a business
to encourage investment and exports as a route to a more balanced economy
to create a more educated workforce that is the most flexible in Europe.
Work is underway across government to achieve these ambitions, including progress on more than 250 measures as part of the Growth Review. Developing an Industrial Strategy gives new impetus to this work by providing businesses, investors and the public with more clarity about the long-term direction in which the government wants the economy to travel.
Published 16 April 2013