Bureaucracy axed to put vulnerable children first
Plans for the overhaul of the child protection system, axing hundreds of pages of manuals and replacing them with precise guidance.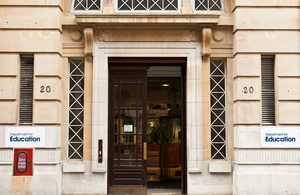 Frontline professionals working to keep children safe from harm will be freed from pointless bureaucracy that has stifled their judgment for too long, under radical plans announced by the Government today.
The Government published its plans to overhaul the child protection system axing hundreds of pages of instruction manuals and replacing it with short, precise guidance and checklists clearly listing roles and responsibilities.
Ministers want to create a culture that places trust in health professionals, teachers, early years professionals, youth workers, police and social workers, so they can get on with their vital work, without being hampered by unnecessary rules and targets.
Today the Children's Minister Tim Loughton said professionals must now step-up to the challenge and lead the reforms. He published a consultation calling for views on the following:
Radically reduced guidance that clearly states the law so all organisations know what they and others must do to protect children. It does not tell professionals how to do their job, but provides a checklist setting out their duties.
New guidance on undertaking assessments of children in need. The guidance proposes to replace nationally prescribed timescales for assessments with a more flexible approach focused on the needs of each child.
New guidance on Serious Case Reviews (SCRs) to help all services properly learn the lessons from them. The guidance proposes changes so SCRs get to the heart of what happened in a particular case and why, and set out what improvements need to be made to help prevent recurrence.
Today's consultation follows Professor Eileen Munro's review, which said the child protection system was overly focused on compliance and too dependent on central prescription and rigid procedures.
Children's Minister Tim Loughton said:
We want to change the child protection system fundamentally - I believe the changes proposed today will free hardworking social workers and other professionals from structures, procedures and rulebooks so they can do their best for vulnerable children and their families.
This is a new mindset and a new relationship between central Government and local services. I am determined that we build on the excellent work of Professor Munro and I trust the workforce to deliver the reforms without the need for excessive central prescription.
We have worked openly and collaboratively with professionals and children's leaders to create reforms that are sustainable in the long term. The Government is not in the business of telling local services how to implement the reforms - as has happened in the past - because this has been shown by Professor Munro to result in unintended consequences.
The Government confirmed that SCRs should be published in full to ensure that lessons are learned locally and nationally and also to give the public greater confidence in the child protection system.
Tim Loughton:
The Government is determined to improve the quality and impact of Serious Case Reviews and we need to ensure that we have a robust system to protect children. Unfortunately we can never eliminate all risk, but when tragedies do happen we need everyone to be clear about what went wrong and why. This new guidance is clear that reviews should be thorough and lead to sustainable improvements in services to prevent future harm.
It is essential that as much information as possible is made public so the public can have confidence in the system that protects our most vulnerable children.
The Government's proposal to remove nationally prescribed timescales for assessments for children in need aims to allow a more flexible process of assessment focused on the individual child's needs.
Tim Loughton:
These proposed changes build on the encouraging findings from eight trial authorities, which are testing more flexible approaches to assessment.
Replacing rigid timescales gives space for social workers to exercise their professional judgment based on the needs of each child. Social workers believe the flexibilities allow them to work more efficiently than before. They are able to use their judgment and experience, rather than work to nationwide dictats.
It is proposed that the three guidance documents, totalling 68 pages, will replace more than 700 pages of bureaucracy. The Government is clear that with greater freedoms comes greater accountability. The following steps have already been taken to reform the child protection system:
Ofsted has begun new unannounced inspections of local authority child protection arrangements that have more focus on the quality of practice and the impact of help provided.
A new child protection performance information framework shifts the focus away from processes and indicators towards performance measures that improve professional understanding and drive improvements locally.
Steps to create a better qualified, more confident and more professional social work workforce with authoritative leadership and challenge from the newly established College of Social Work and the first ever Chief Social Worker in England who will be appointed later this year.
Revised statutory guidance for local authority Directors and Lead Members of Children's Services reinforces the importance of these roles and their accountability for child protection.
Professor Eileen Munro, author of the Government's review of the child protection system, said:
This draft guidance is proof that reforms are rightly moving the focus of help and protection firmly onto children and young people.
We are finally moving away from the defensive rule-bound culture that has been so problematic. I believe an urgent culture change in our child protection system is now underway.
The guidance is clear and concise and leaves no one in any doubt on the expectations of all professionals in helping keep children safe. It moves responsibility for how to do that to local and professional control.
Barnardo's Chief Executive Anne Marie Carrie said:
When faced with making difficult decisions about protecting a child, social workers need to first call on their professional judgment. Empowering practioners to do better for families means encouraging them to use their expertise and draw on their experience to make good choices, not giving them more guidelines to follow.
We support changing the emphasis within the system to enable professionals to take responsibility for safeguarding the welfare of the most vulnerable children.
Related links
Safeguarding: disclosure and barring – Sept 2012 changes Information about consultation on on the guidance for disclosure and barring.
Notes to editors
This consultation on Working Together to Safeguard Children; Managing Cases: Framework for the Assessment of Children in Need and their Families; and Guidance on Learning and Improvement can be found at www.education.gov.uk/consultations/
The consultation document, Managing Cases; the Framework for Assessment of Children in Need and their Families, proposes to replace nationally prescribed timescales for assessment with local frameworks based on some key principles. These proposals are based on emerging evidence from eight local authorities and their partners - health, education, police and voluntary groups - who are testing a more flexible approach to assessment through local frameworks which are timely, transparent and proportionate to the needs of the child and their family. Trial areas are Cumbria, Knowsley, Hackney and Westminster from March 2011. From September 2011, Wandsworth; Islington; Hammersmith and Fulham; and Kensington and Chelsea. Determining what is timely and proportionate will be made by social workers using their knowledge, expertise and judgment.
DfE enquiries
Central newsdesk - for journalists 020 7783 8300
General enquiries - for members of the public 0370 000 2288
Published 12 June 2012